Opera Memphis Celebrates Troops in THE FALLING AND THE RISING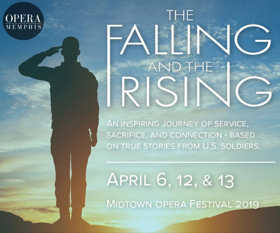 This April, Opera Memphis' seventh annual Midtown Opera Festival will be anchored by premiere performances of The Falling and the Rising, a new American opera written by Memphis playwright Jerre Dye and composed by Opera Memphis favorite Zach Redler. The Falling and the Rising takes the stage at Playhouse on the Square April 6, 12, & 13 at 7:30 PM. Free tickets are available for military families, and all tickets can be reserved online at www.operamemphis.org or by calling the Opera Memphis Box Office at 901.257.3100.
The Falling and the Rising, the brainchild of Staff Sergeant Ben Hilgert, tells the story of a soldier, posted in conflict overseas, whose world is forever changed by an improvised explosive device shortly after a video chat with her daughter. The Soldier suffers a traumatic brain injury, and the military doctors induce a coma to save her life. In this quasi-dream state, she encounters other soldiers, all working through their own pain and challenges. With each encounter she is reminded of the strength and resilience inherent in every soldier, the qualities she will need to rise up again and return to her young daughter.
The idea for The Falling and the Rising came to Sgt. Ben Hilgert, a tenor in The United States Army Field Band & Soldiers' Chorus, in 2015. While attending an OPERA America conference in Washington, D.C, Hilgert saw a short opera from Opera Memphis' Ghosts of Crosstown project, originally performed in the Sears Crosstown building prior to its renovation. Hilgert decided to adapt that format to tell a different story. "I was sitting there thinking, opera companies are scrambling to make themselves relevant in their cities, to build community, and justify their existence. And we [as soldiers] walk into our towns and immediately have a connection to almost everybody...I knew I wanted to commission an opera that told veterans' stories and to explore collaboration across the industry as broadly as I could."
This combination of collaboration, civic action, and the strong Memphis connections is what drew General Director Ned Canty to the table when discussion began about commissioning the piece. "I loved the idea from the start, " says Canty. "Right now our troops are making daily sacrifices, large and small, on behalf of all of us, yet fewer people have a close friend or family member serving than at any other point in our nation's history. It is not enough to know these sacrifices are being made; we need to feel them, if only for an hour or two, and that sort of empathy is what opera is best at creating."
With the help of Laura Lee Everett at Opera America and Darren Woods, then General Director of Fort Worth Opera, Hilgert convinced The United States Army Field Band & Soldiers' Chorus to work with Opera Memphis, Arizona Opera, San Diego Opera, Seattle Opera, and Texas Christian University to co-commission The Falling and the Rising--the first project of its kind by the U.S. Department of Defense with any professional company in the nation.
To compose the piece, the consortium chose Zachary Redler, who first worked with librettist Jerre Dye on the 2014 Ghosts of Crosstown project. Dye, a Memphis resident and founding company member of Voices of the South, wrote a libretto to celebrate those who served with authentic stories of actual soldiers. "We wanted to create a story that was about something more than pain and suffering...a story that was about human connection," said Dye. Both he and Redler interviewed dozens of soldiers and veterans at Walter Reed National Military Medical Center, Fort Meade, Joint Base Myer-Henderson Hall, and Arlington Cemetery.
The Falling and the Rising is already gaining national recognition and interest with a successful staging at Texas Christian University and a sold-out performance in Manhattan as a showcase for opera companies attending the OPERA America New Works Forum. Now it comes full circle, back in Memphis, as the anchor opera in Opera Memphis' 2019 Midtown Opera Festival. Sgt. Ben Hilgert, Jerre Dye, and Zach Redler will all be in town for the premiere for a pre-show talk and Q&A with audience members after the performance.
Opera Memphis artists Chelsea Miller, Stephanie Doche, Philip Himebook, Marcus King, and Darren Stokes - the unforgettable star of last year's Movin' Up in the World - will take the stage directed by General Director Ned Canty and conducted by Music Director Michael Sakir. For the final number the cast will be joined by a chorus made up of active military and veterans drawn from all branches of the armed services in Memphis and the Mid-South.
The Falling and the Rising performs April 6, 12, & 13 at 7:30 PM on the mainstage at Playhouse on the Square with members of the Memphis Symphony Orchestra playing. Tickets can be purchased online at www.operamemphis.org/tickets or by calling the Opera Memphis Box Office at 901.257.3100.
**Opera Memphis is offering free tickets to military families for any performance of The Falling and the Rising. Information about this offer can be found on their website.**
Related Articles View More Opera

Stories
More Hot Stories For You