Opera Ithaca to Stage Gala Production of THE PIRATES OF PENZANCE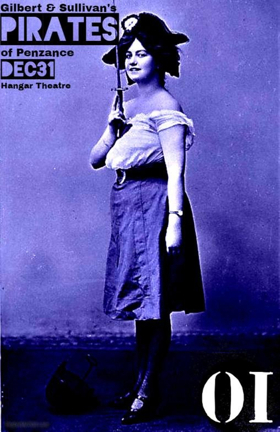 Opera Ithaca presents their 3rd Annual New Year's Eve Gala featuring Gilbert and Sullivan's, The Pirates of Penzance, in a gala production at the Hangar Theatre in Ithaca on December 31st with a special additional concert performance at the Smith Opera House in Geneva, New York on December 30th.
Opera Ithaca's cast of The Pirates of Penzance features two of the world's most celebrated Gilbert and Sullivan interpreters, mezzo soprano, Melissa Parks, as Ruth and baritone, Curt Olds, as Major General Stanley.
Melissa Parks has sung with opera companies all over the world including the Metropolitan Opera and has been praised for her "lush-voiced mezzo-soprano" by The New York Times and as "a fine singing actress" with "spot-on comedic timing" by Opera News. She has performed the role of Ruth in The Pirates of Penzance hundreds of times with opera companies including Opera Omaha, Shreveport Opera, Amarillo Opera, Nashville Opera, Utah Opera, Chautauqua Opera, Utah Festival Opera, Augusta Opera, Cleveland Opera, and Pittsburgh Public Theatre and on national tour with the New York Gilbert and Sullivan Players.
Curt Olds, Broadway actor and international opera singer, has been praised for being "a stylish performer bringing opera and Broadway together" by The New York Times and "a wonderful singing actor as adept in pointing dialogue as in phrasing song" by Opera News.
Rounding out the cast is tenor, Johnathan Riesen, as Fredric, Virginia Hesse as Mabel, David Neal as the Sargeant of Police, Benno Ressa as Samuel, Gillian Lynn Cotter as Edith, Kathleen Maloney as Isabel, Carli Mazich-Addice as Kate and Opera Ithaca General Director, international opera singer and Broadway actor, Zachary James, as The Pirate King.
The production is music directed by Richard Montgomery with a full chorus featuring Natasha Bratkovski, Seamus Buxton, Joshua Dykes, Haley Evanoski, Chris Hauser, Jim Hedlund, Ellie Hobbie, Andrew Hudson-Sabens, Jacob Kerzner, Kate Maloney, Carli Mazich-Addice, Arlene Muzyka, Diane Ospina, Josi Petersen, Nick Roscoe, Betsy Schermerhorn, Rachel Silverstein, Annalise Smith, Dan Taylor, Sarah Welden and Cordelia Wilson.
The Pirates of Penzance is staged in loving memory of opera and musical theatre director and choreographer, Bill Fabris, with whom the majority of the principal cast worked with on the operetta at Shreveport Opera in Louisiana in 2015.
The Pirates of Penzance is sponsored by Schickel Construction, the developer of Brooktondale's Boiceville Cottages. Catering for the Ithaca production at the Hangar Theatre is sponsored by Serendipity Catering.
Opera Ithaca's 4th Season continues with Bully Pulpit, Tosca, Carmen, Song from the Uproar and the 2nd Annual Edward M. Murray International Competition of Voice. For more information and tickets, visit www.OperaIthaca.org.
Related Articles View More Opera

Stories
More Hot Stories For You