Encompass New Opera Theatre Presents World Premiere Of Anna Christie, With Music By Edward Thomas At Baruch Performing Arts Center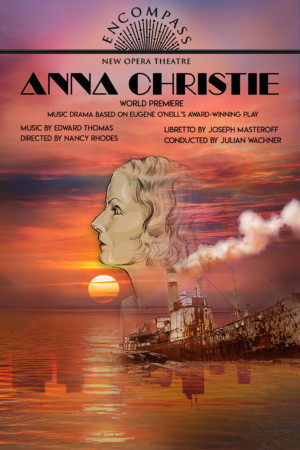 Encompass New Opera Theatre will present the World Premiere of Anna Christie with music by Edward Thomas, set to a libretto by Joseph Masteroff, with 12 performances beginning on Thursday, October 4, 2018 at 8pm and running through Sunday, October 21, 2018, at the Baruch Performing Arts Center (at 55 Lexington Avenue, entrance on 25th Street, between Lexington and Third Avenues) in Manhattan.
Nancy Rhodes is stage director and Julian Wachner conducts the Ionisation New Music Ensemble. The cast includes Frank Basile (Chris Christopherson, Anna Christie's father), Jonathan Estabrooks (Mat Burke), Melanie Long (Anna Christie), Joy Hermalyn (Marthy Owen), and Mike Pirozzi (Larry the Bartender).
Anna Christie, based on Eugene O'Neill's Pulitzer Prize-winning play explores the lost relationship of a woman and her father, and the sailor she falls in love with. The sea is a powerful symbol in the play and O'Neill having lived by the docks in New York City's waterfront, was acquainted with the sailors, booze, saloons and night life that he wrote about with such passion and authenticity. Abandoned by her father when she was five years old, Anna suffered a life of hardship and carries a dark secret from her past. An emotionally charged reunion with her father, a captain of a coal barge, intensifies when a merchant sailor is pulled from the cold, dark waters of the Atlantic on a foggy night. When the fog clears, Anna, the sailor and her father are caught in a riveting struggle between love and the sea, changing their lives forever. The play made its Broadway debut at the Vanderbilt Theatre on November 2, 1921 and was made into a 1930 Hollywood film starring Greta Garbo in her first talking picture.
Richard Pearson Thomas serves as Assistant Music Director, and set design is by Charles Wittreich, costume design by Angela Huff, projections by Lachlin Loud/Charles Wittreich and lighting design by Colin Chauche. Sound design is by Avery James Orvis.
A special 94th birthday celebration for composer Edward Thomas will take place on Sunday, October 7, immediately following the matinee, 3pm performance.
Tickets for Anna Christie, are $59 (premium ticket); $36 (general) and $16 (student) available at www.encompasstheatre.org or the Baruch box office at 866-811-4111. All performances take place at the Baruch Performing Arts Center.
Edward Thomas, Composer, studied composition with Tibor Serly and spent the early part of his musical life as a guitarist and ensemble singer. In 1967, his String Quartet was premiered by the Harold Kohon Quartet at New York's Town Hall. Thomas is the composer of the opera Desire Under the Elms (from 1978) set to a libretto by Joe Masteroff that was produced at New York's City Center. The opera was later recorded by the London Symphony Orchestra under the direction of George Manahan, featuring James Morris, Jerry Hadley and Victoria Livengood. The recording, nominated for a 2004 Grammy Award, was produced by Tom Shepard and released internationally in October 2002 on the Naxos American Opera Classics series.
His Concerto for Clarinet and Orchestra was premiered at Lincoln Center with the London clarinetist Sidney Fell and the Master Virtuosi of New York conducted by Gene Forrell. His Images for Oboe and Strings received its world premiere at the American Music Festival in Oklahoma, and his Fantasy for Two Clarinets was recorded in 2011 by Stanley and Naomi Drucker and the American Composers Orchestra conducted by George Manahan. Also, in 2011, Glenn Dicterow recorded his Reflections for Violin and Piano. His one-act opera, A Sunny Morning was recorded in 2012 by Judy Kaye and Tim Jerome. Visit him at http://www.edthomasmusic.com/.
One of the nation's leaders in championing new music theatre and American opera, Encompass New Opera Theatre is celebrating its 40th season dedicated to creating developing and producing adventurous productions of new music theatre. Striving to discover and nurture emerging singers, composers, librettists, and musicians; premiere groundbreaking new productions, and revive important 20th century musical works by American and international composers, Encompass has produced more than 63 full-scale opera productions with orchestra and staged readings of more than 165 new works.
Encompass was founded by Nancy Rhodes and Roger Cunningham, and most recently performed at the Brooklyn Academy of Music, BAM Fisher in January 2016, with the New York premiere of The Astronaut's Tale by Charles Fussell and Jack Larson.
Encompass productions have been performed at the Baruch Performing Arts Center (Richard Pearson Thomas's opera, A Wake or a Wedding); Baryshnikov Arts Center (world premiere of Evan Mack's Angel of the Amazon); Elebash Recital Hall (Four Saints in Three Acts, 75th Anniversary); Symphony Space (Ned Rorem's Three Sisters Who Are Not Sisters and Virgil Thomson's Capital Capitals, John David Earnest/Nancy Rhodes' concert reading, The Theory of Everything, and Philip Hagemann's Shaw Sings); and at the Gerald W. Lynch Theater Louis Gioia's opera, I tre campagni, and at Alice Tully Hall (Louis Gioia's Un Racconto Fiorentino), as well as regional tours at the Cleveland Opera of Grigori Frid's The Diary of Anne Frank, and Paradigm Shifts, Music, Opera and Film Festival in partnership with Earth Ethics at Union Theological Seminary and performed in Seoul, Korea. Encompass productions were featured internationally at the Holland Festival in Amsterdam, and Ricky Ian Gordon's Only Heaven performed at the 5th International Music Theatre Workshop in Munich. Visit them at https://www.encompasstheatre.org/.
Encompass New Opera Theatre's productions are made possible in part with public funds from The New York State Council on the Arts with the support of Governor Andrew M. Cuomo and the New York State Legislature, as well as the New York City Department of Cultural Affairs.