Christoph Waltz Directs Verdi's Comic Masterpiece FALSTAFF for Opera Vlaanderen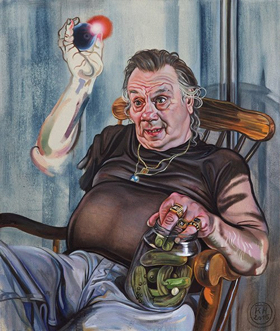 The cycle of late Verdi works presented at Opera Vlaanderen in recent seasons wouldn't be complete without Falstaff. In this vibrant testament, the old master composed a final masterpiece in which he once more reinvents himself at an advanced age.
None other than Hollywood actor, director and two-time Oscar winner Christoph Waltz will be returning to Opera Vlaanderen to direct, having just completed his first feature film as director, Georgetown. In his successful debut as director of Der Rosenkavalier (2013), his great affinity for a comic ensemble piece was already in evidence.
"How merry are those conniving, bourgeois ladies of Windsor?", wonders director Christoph Waltz. "The notion of 'honour' is often an excuse for arrogance and unchecked cruelty. Falstaff quite rightly tears it apart."
Waltz, who showed sympathy for the tactless, unrefined baron Ochs in Der Rosenkavalier, now resolutely takes the side of the outsider Falstaff, who struggles to hold his own in a society that is crueller than it pretends.
The captivating, brilliant score by Verdi is in excellent hands with the Czech conductor Tomáš Netopil, who has earned international acclaim for his conducting at Opera Vlaanderen in works such as The Makropoulos Affair (2016) and La Juive (2015).
The director and conductor will be supported by an outstanding array of major soloists-actors, most of whom will be making their debut in their roles: The German star and Wagner baritone Thomas Johannes Mayer, whom we know from Barak/Die Frau Ohne Schatten (2011), will assume the title role, Mr & Mrs Ford are the celebrated German baritone Johannes Martin Kränzle and the American soprano Jacquelyn Wagner, who previously played Fiordiligi/Cosi fan Tutte (2008) on our stage. Mrs Quickly and Mrs Meg Page will be played, respectively, by the German mezzosoprano Iris Vermillion and the Estonian mezzosoprano Kai Ruütel, also a familiar face in our house.
The production will premiere on Wednesday 13 December at 8 PM at Opera Antwerp, Frankrijklei 3 and on Wednesday 10 January at 8 PM at Opera Ghent, Schouwburgstraat 3.
---
FALSTAFF
Giuseppe Verdi (1813 - 1901)
Lyrical comedy in three acts
Libretto by Arrigo Boito after The Merry Wives of Windsor and Henry IV by William Shakespeare
Creation Milan, 1893
New production
Conductor Tomáš Netopil
Director Christoph Waltz
Set design Dave Warren
Costumes Judith Holste
Lighting Felice Ross
Chorus master Jan Schweiger Sir John Falstaff Thomas Johannes Mayer
Ford Johannes Martin Kränzle
Fenton Julien Behr
Dr. Cajus Michael Colvin
Bardolfo Denzil Delaere
Pistola Markus Suihkonen
Mrs. Alice Ford Jacquelyn Wagner
Nannetta Anat Edri
Mrs. Quickly Iris Vermillion
Mrs. Meg Page Kai Rüütel
Opera Vlaanderen Symphony Orchestra
Opera Vlaanderen Chorus
Tickets €17 - €127
Box office +32 (0)70 22 02 02 or operaballet.be
Opera Antwerp
Wed 13, Fri 15, Sun 17°, Tue 19, Thu 21, Sat 23, Wed 27, Fri 29, Sun 31* Dec 8 pm/°3 pm/*6.30 pm
Opera Ghent
Wed 10, Fri 12, Sun 14°, Tue 16, Thu 18, Sat 20 Jan 8 pm / °3 pm
Related Articles View More Opera

Stories
More Hot Stories For You