Chamber Opera LADY OF THE CASTLE to Play Scandinavia House Next Weekend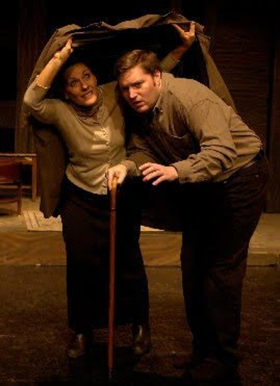 The Aviva Players and Algonquin Theater Productions in association with Diodati Productions, Original Cast Records and The New York Association present Lady ofthe Castle, a ghostly post-Holocaust chamber opera based on a true story and an Israeli play by Lea Goldberg with music and lyrics by Mira J. Spektor.
Lissa Moira directs a cast offour, including Darcy Dunn, Douglas McDonnell, Bennett Pologe, and Amanda Yachechak.
Two performances will be staged at the Victor Borge Hall at Scandinavia House 58 Park Avenue in New York City, November 25th at 8pm an November 27th at 7pm.
Relevant to today's anti-refugee, anti-semitic political climate, Lady of The Castle is set in 1947 after the Holocaust. Is there a young Jewish girl still hidden in the old castle? Based on a true story and Lea Goldberg's Israeli play, Lady of the Castle is a chamber opera about illusion, reality, love, betrayal, death and hope.
Originally commissioned and presented by Theater for the New City in 1982, Lady of The Castle has enjoyed over ten productions internationally. It has been staged in New York off-Broadway and at the JCC, on Long Island and in Massachusetts, in Berlin with support of the Anne Frank Foundation, and in London at Saint Giles Cripplegate Church in the Barbican Center as part of the Festival of Austrian Jewish Culture - produced with the artistic supervision of conductor David Josefowitz. The London concert version is available on Original Cast Recordings. Lady of the Castle was also seen on television in New York and DC.
The New York Association is a non-governmental organization associated with the United Nations, Department of Public Information.
A three-piece chamber orchestra includes, Piano: Alberto Nevada Lozano; Flute: Michael Laderman; Cello: Brian Sanders.
Lady of The Castle is presented by The Aviva Players in association with Scandinavia House. Director: Lissa Moira; Music Director: Alberto Nevada Lozano; Choreographer: Amanda Yachechak; Sets and Costume Designer: Lytza Colon.
Tickets are $25 and can be purchased by visiting SmartTix.com or calling 212-868-4444.
Pictured: Darcy Dunn, Douglas McDonnell. Photo by Peter Welch.