BWW Review: THE PIRATES OF PENZANCE at San Diego Civic Center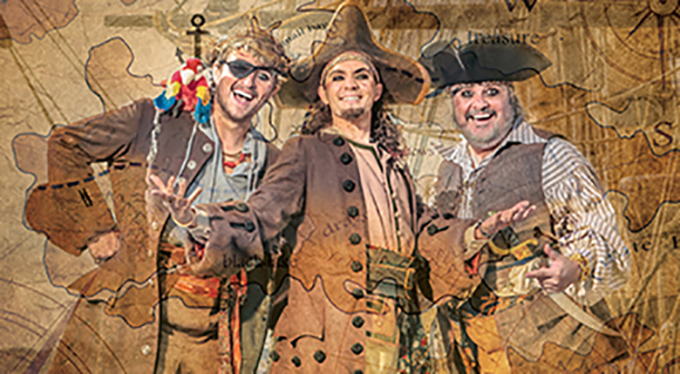 The Pirates of Penzance--opera or operetta? The answer to that question seems important to some opera lovers who believe a "serious" opera company doesn't do operettas. Too bad for them if their doubts made them miss out on San Diego Opera's hugely entertaining production. A nearly sold-out audience laughed frequently as Gilbert and Sullivan made fun of inept but kind-hearted pirates, cowardly policeman trying their best, and even Queen Victoria, who made a non-singing appearance with the signature rotation of the raised Royal hand. While musicologists, historians and purists at home argued about the correct classification of the work, excellent operatic singers delivered clever lyrics and threw themselves into the light-hearted silly plot.
Forty-one members of the San Diego Symphony got the production off to a jaunty start with the overture that introduces the work's best melodies. Conductor Evan Rogister and his merry band added pleasurably to the farcical proceedings throughout the evening.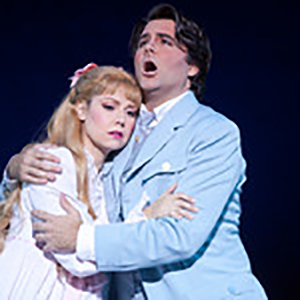 Leads soprano Maureen McKay as Mabel and tenor Mackenzie Whitney as Frederic made an attractive pair of young lovers. During one of the few breaks from tongue-in-cheek action, their duet, "Oh, here is love, and here is truth," was warmly touching. McKay has beautiful tone and control, and during Pirates second most familiar aria, "Poor wandering one," her wildly exaggerated coloratura gymnastics produced some of the evening's biggest laughs.
The most familiar aria, and many more of the biggest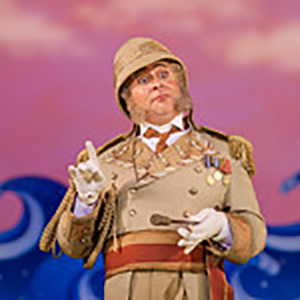 laughs, went to Patrick Carfizzi's Major-General Stanley. Although his smooth, resonant bass-baritone is fine for many dramatic roles, he is more often cast as a comedic character. Hundreds of appearances with the Metropolitan Opera indicate he does them well. He took the famous "I am the very model of a modern major general" at a pace Formula I racers would have admired. I don't think he missed a syllable or accent in the torturous word-gauntlet, but I'd have to see it in slo-mo to be sure. What is certain is that his delightful over-acting and cavorting stole more than one scene.
Bass-baritone Greer Grimsley's strong voice and stage presence make him a natural for serious dramatic roles, but he seemed to enjoy letting his hair down as the pirate king. The part is often played, tongue-in-cheek, in the athletic swashbuckling tradition of early film stars such as Errol Flynn. Director Seán Curran instead made Grimsley possibly the clumsiest pirate king in the history of piracy. That was consistent with his emphasis on broad farce and physical comedy.
Curran has had his own dance company for ten years, and challenged both soloists and members of the San Diego Opera chorus with vaudeville-like dance steps. They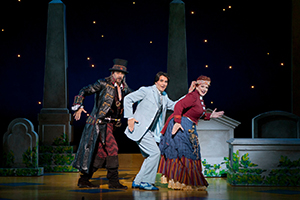 responded well with continuous motion that added to the production's high-spirited energy, as did the simple brightly lit settings and colorful costumes of James Schuette.
Tall, slim bass-baritone Tim Pickell was an impressive first mate. Mezzo-soprano Luretta Bybee sang and acted well as Frederic's rough cockney nursemaid.
I wouldn't want to see the San Diego Opera abandon "serious", but when a production, whether opera or operetta, is this much fun, and introduces potential new fans to the beauty and power of operatic voices, I'm all for it.
The Pirates of Penzance will be performed again twice this coming weekend. For information about that and other scheduled productions visit SDOpera.
Photos compliments of San Diego Opera.