Review: Opera Theatre St. Louis Gives Us An Utterly Flawless REGINA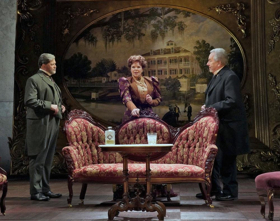 This opera premiered in 1949. It was adapted by Marc Blitzstein from Lillian Hellman's 1939 play The Little Foxes. Blitzstein wrote both music and libretto.
The story is set in Alabama in 1900, and presents the immense greed of the Hubbard siblings, Ben, Regina and Oscar, and the utterly ruthless battle among them for the chance to be "BIG RICH". It shows the sad decline of the old Southern aristocracy and its replacement by avaricious commercial entrepreneurs. Twenty years ago the Hubbard brothers had acquired Lionnet, a rich old cotton plantation (partly through Oscar's marrying Birdie, the naïve daughter of the owners). Now they hope to make a fortune by joining with a Chicago businessman to build a cotton mill on the plantation. "Bring the mill to the cotton, not the cotton to the mill!" But the brothers need more capital to clinch the deal. They pressure Regina to persuade her husband, Horace, the town banker, to invest. Horace refuses. But . . . Horace is near death from heart disease.
Well, if begging and borrowing won't work, stealing will suffice. Or perhaps even murder? And maybe a little blackmail? We watch with awe and horror as all the Hubbards cunningly contrive to grasp the biggest share.
Marc Blitzstein is wonderfully true to Hellman's script. A well-structured three-act play becomes a three-act opera. (Those act-breaks are there for a purpose!) He does add a party scene with ballroom dancers; he does expand the roles of the household servants a bit to bring in some spirituals, some rag-time, some blues; all this not only adds musically, but contributes to the social critique which already underlies the story. His score is rich and diverse. You'll hear his influence on Bernstein and Sondheim and others. But the most important thing about the music is the way in which every detail supports the text and the drama. Even some of the spoken dialogue is beautifully supported by music.
Few operas so carefully convey the drama of the story. And Blitzstein did well to change the title from a rather obscure reference to the "Song of Solomon" to simply the name of the protagonist--Regina. This is her show. Actresses would kill for this role (and probably have). In the play version the role has been done by Tallulah Bankhead, Ann Bancroft, Liz Taylor, Stockard Channing and (just last year) Laura Linney--and of course Bette Davis portrayed her in the 1939 film. But none of those ladies could surpass the performance of mezzo-soprano Susan Graham in this production. With keen intelligence and consummate authority she absolutely nails it.
In this she leads a cast who bring not only sublime operatic voices, but wonderful acting ability. I think I've never seen an opera so perfectly cast. Bass-baritone James Morris sings brother Ben, and fills him with immense easy, graceful power.
Sopra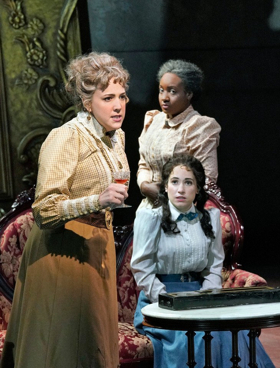 no Susanna Phillips, in her OTSL debut, wrings our hearts as Birdie, the wife of Oscar Hubbard. She masters those gorgeous coloratura passages. Sweet helpless Birdie, trapped in a horrid marriage, receives only contempt and the occasional slap from her husband as she dreams of returning to the peaceful life at old Lionnet. (In such poignant reveries she foreshadows those other lost and helpless southern ladies, Blanche DuBois and Amanda Wingfield. Surely theirs was not an uncommon sentiment in the post-bellum South.)
Ron Raines, baritone, does excellent work as Oscar, the third of the poisonous Hubbards. Oscar is not so clever or quick as his older siblings, and Raines deftly displays Oscar's bitterness as his share of the riches disappears, bit by bit, into Ben and Regina's pockets.
Regina's husband Horace is sung by bass-baritone Kristopher Irmiter, who has a wonderfully deep and resonant voice. He captures the moral strength of this dying man as he struggles to rescue his beloved daughter from this nest of vipers. In one quiet scene (when all the bad guys are absent) we feel the real affection between the servants and the family.
Alexandra, the beloved daughter, is splendidly sung by Monica Dewey. She is convincingly seventeen. From whence, in that tiny frame, comes this beautiful large voice?
Tenor Michael Day brings a lovely voice and a bright, handsome freshness to the role of Leo, Oscar and Birdie's son. These qualities almost make us like him despite Leo's fecklessness, uselessness and utter lack of moral fibre.
Mezzo-soprano Melody Wilson brings a lovely strong voice to the role of Addie, the black housekeeper. She radiates warmth and decency. She is the heart of several scenes that give us needed respite from the unrelenting viciousness that drives the plot. With her we discover the call-and-response spiritual, rag-time, the blues. When, in the final moment, she departs with Alexandra we know that Horace has placed his daughter's safety in good hands. Regina is left all alone in her icy greed.
Everyone in the cast merits high praise: Robert Stahley as Marshall, the Chicago businessman; Leo Radosavljevic as Manders, a banker; Evan Bravos as Bagtry, Regina's one-time beau; and Justin Austin and Brittany Graham as Cal and Belle, servants in the household. Chaz'men Williams-Ali brightens things and brings a happy touch of "Sportin' Life" as the trumpeter who leads the jazz band.
Aristotle stipulated three necessary dramatic unities for tragedy: the unities of action, of place, and of time. Lillian Hellman was aiming for tragedy when she wrote The Little Foxes. She surely gives us one single dramatic action, with no distracting sub-plots. She places her drama in a single room. The action does take more time than Aristotle's ideal (one day) but it is still completed within only two weeks.
Blitzstein is true to those values, and set designer Allen Moyer implements them with gorgeous economy. We see a grand room, rich, yet somehow barren. There are a few pieces of furniture--a piano, a sofa, chairs, a console table with mirror--all in beautifully carved wood. The walls behind are a soulless gray. The back wall is dominated by a simply gigantic painting of the plantation house at Lionnet. And, like a great slash across the scene, there is a long
, long continuous open staircase-two dozen steps at least--a strange, yet brilliant treatment. Those stairs offer such drama when Regina enters, or when the dying Horace struggles up toward his life-saving medicine, or--most wonderfully--when Susan Graham descends to receive her thunderous ovation.
James Schuette's costumes are beautifully period, beautifully fitted, and in a most subtly coördinated palette. The ballroom scene is done with gentlemen in black and ladies in gowns of a uniform deep red.
Christopher Akerlind once again works magic with lights, transforming those putty-colored walls into rich hues reflecting the moods and emotions on stage--the blue of a peaceful moment when the good folks simply listen to the rain, the golden glow of hope. One odd but effective device is used when the libretto changes back and forth between dialogue and narrative descriptive text: the lights suddenly shift as those on stage sing the narrative in unison, then shift back to continue the interactive dialogue.
Choreographer Seán Curran fills the ball with grace, chorus master Cary John Franklin does lovely work, and dialect coach Stephen Gabis helps all the voices attain a consistent comfortable southern touch.
The master of this ship is stage director James Robinson. He does simply remarkable work--evoking such perfection from his singer/actors, his designers, everyone.
The fine orchestra is under the baton of the very gifted music director emeritus Stephen Lord.
(Photos by Ken Howard)