BWW Review: Moved by WE SHALL NOT BE MOVED at Harlem's Apollo Theatre via Opera Philadelphia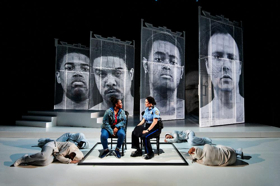 WE SHALL NOT BE MOVED, which made its NY debut in a pair of performances at the Apollo Theatre in Harlem last weekend, after its world premiere at Opera Philadelphia's O17 festival last month, is more than an opera or performance piece. And it surely wouldn't be called "an evening's entertainment." Composed by Daniel Bernard Roumarin with libretto by Marc Bamuthi Joseph, and directed, choreographed and shaped by Bill T. Jones, it is by turns incredibly moving and infuriatingly contemporary in a bold performance that I won't soon forget.
It's not a story that fits the confines of traditional opera (one of the trademarks that the O17 festival's contemporary entries shared): Five North Philadelphia teens on the run take refuge in an abandoned, condemned house in West Philadelphia (brilliantly set with scenery by Matt Saunders, projection design by Jorge Cousineau, lighting by Robert Wierzel and sound by Robet Kaplowitz) that will end in an inferno that merges the past and present.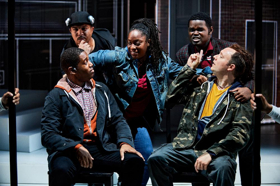 These impressive performers, one and all, are tenor Daniel Shirley (John Little), baritone Adam Richardson (John Mack) bass-baritone Aubrey Allicock (John Henry) and, especially, the thrilling countertenor John Holiday (the transgender John Blue), and expressive spoken-word artist Lauren Whitehead (Un/Sung).
The house sits on the site where the headquarters of MOVE--a black liberation group founded by John Africa whose members frequently demonstrated against racism and police brutality, among other issues still festering today-was burned to the ground in a confrontation with police in 1985. While the teens have current problems of their own--a female cop (the exciting mezzo Kirstin Chavez) encounters them before understanding they are more than simply truants and becomes entangled in their brutalized existences--the ghosts of MOVE (referred to as OG, original ghosts) wander through the building.
These are not the ghosts of Saturday morning cartoons, but ones taking the teens to a destiny where there are no happy endings--no future to speak of--as the multi-media production shows newscasts of the past and present and they find themselves backed further and further into a corner. In Jones's choreography, the ghosts are restless and omnipresent spirits for these squatters; they may pacify and inspire them, but they don't ease their pain--certainly not in Roumarin's restless and tense score, urgent and excitable, orchestrated for a small ensemble of strings and percussion under the sure and swift baton (and utter control) of conductor Viswa Subbaranman.
WE SHALL BE MOVED is a bold piece of music theatre that should be seen, and seen again--and stand as a reminder that those who forget, or ignore, the past are doomed to repeat it. And it won't be pretty.
Related Articles
View More Opera

Stories