BWW Review: Meade Fearlessly Outruns Dazzlingly Difficult SEMIRAMIDE at the Met
A lot of risk, fast rotations in perfect unison, a precarious balance point. No, I'm not talking about doing a twizzle in Olympic ice-dancing--but starring in SEMIRAMIDE by Gioacchino Rossini, a man who believed there was no such thing as too many runs, roulades and high notes. Neither did soprano Angela Meade, who fearlessly stars in the Met's current run of this dazzlingly difficult piece.
The opera's had what might politely be called a checkered history at the Met. In fact, the company's first performance of it wasn't even in New York: It was on tour in Boston, with the renowned soprano Adelina Patti in the title role in 1892, followed by a house debut with another legend, Nellie Melba, in 1894 and 1895. And that was it for 95 years, until 1990, when this production had its premiere with June Anderson.
Usually, there's a reason that operas disappear at a house like the Met. Some weren't that good to begin with, others just fall out of favor because of changing tastes. While the latter may partially be true, neither is entirely the case with SEMIRAMIDE (though its libretto does have more loop-de-loops than all the roller coasters in Disney World). It's the casting. The score is just too fiendishly challenging not just in one role but in many--and while the current mix may not solve all its problems, it comes pretty close.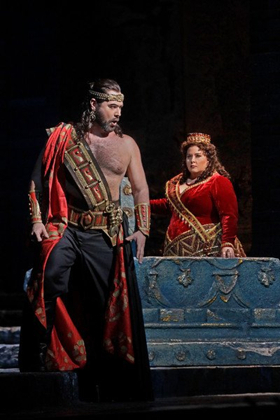 Meade debuted the role at the Caramoor Festival several years ago and she's fulfilling a dream of doing this production since she first saw a video of it. She did herself proud. If the role of the Babylonian queen has "simply too many notes" (as HRE Joseph II commented to Mozart in AMADEUS about ABDUCTION FROM THE SERAGLIO), Meade took them in stride. She was a force of nature, with gorgeous singing, superb articulation and the feeling that she could do anything.
My second favorite in the cast was the great tenor Javier Camarena. While his role was not nearly as large, he sang with sweet and melting tone and was pitch perfect. His declaration of love for the Azema seemed heartfelt and totally real. (Soprano Sarah Shafer, making her Met debut as the princess, showed off a lovely light soprano.) Bass-baritone Ryan Speedo Green made everyone take notice in a sonorous, pithy portrayal of Oroe, the High Priest of the Magi.
Mezzo Elizabeth DeShong was a bit of a puzzle for me as Arsace, commander of the Assyrian army, a pants role. (He, in love with Azema, finds out that Semiramide is his mother, just before she forces marriage on him. He accidentally kills her in a darkened room, thinking he is Assur, who murdered his father.) She has a lovely, burnished voice and executed the role's ornamentation with ease, but it all seemed half a size too small for the Met and I felt myself leaning forward to hear her. Yet, in her two wonderful duets with Meade, there seemed no problem in hearing her at all.
As Assur, the prince descended from Baal, bass Ildar Abdrazakov, seemed more like a baritone with a short bottom extension. He did some gorgeous singing at the top of his range--encompassing much of the role--but the voice all but disappeared the lower it reached. Rounding out the principals were tenor Kang Wang, convincing as the captain of the guard, and bass Jeremy Galyon in a nice turn as the ghost of Semiramide's husband, King Nino.
The production, designed by John Conklin with costumes by Michael Stennit, looked impressive with its gold and blue motif and giant reliefs that could have come from the Met Museum's Middle East collection. Was it a bit overdone in its opulence? Well, so what; it worked very well. The production's original director, John Copley, disappeared before the opening, due to some unwelcome remarks to a chorister, but stage director Roy Rallo kept things rolling along through all the opera's gymnastics.
While conductor Maurizio Benini kept things moving along (particularly in Act I)--no small feat as the opera approached 4 hours--the orchestra sounded a little undernourished. Was it too much PARSIFAL over the last weeks, or more control needed? The chorus, on the other hand, sounded vital and robust as the ladies of Semiramide's court and the royal guards.
SEMIRAMIDE--as a certain Broadway leading lady is hearing these days--it's so nice to have you back where you belong.
###
Additional performances of SEMIRAMIDE will take place on February 24 and 28; March 3, 6, 10mat, 14 and 17. Curtain times vary: complete schedule here. Running time is listed as 3 hours and 29 minutes with one intermission, but it ran longer at the opening.
Saturday, March 10 matinee performance will be transmitted worldwide as part of the Met's "Live in HD" series, which is now seen in more than 2,000 movie theaters in 73 countries around the world.
Tickets begin at $25; for prices, more information, or to place an order, please call (212) 362-6000 or visit www.metopera.org. Special rates for groups of 10 or more are available by calling (212) 341-5410 or visiting www.metopera.org/groups. Same-day $25 rush tickets for all performances of the opera are available on a first-come, first-served basis on the Met's Web site. Tickets will go on sale for performances Monday-Friday at noon, matinees four hours before curtain, and Saturday evenings at 2pm. For more information on rush tickets, click here.