BWW Review: It May Not Be Celestial but AIDA Reigns in Brooklyn at Feisty Regina Opera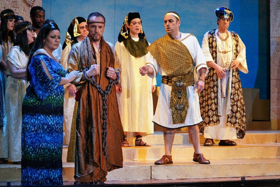 While New York waits for Netrebko's house debut as Aida to the Met next year, we always have...Brooklyn? If you hurry, you can catch next weekend's matinees--it's a local company that knows its audience and schedules accordingly--at the feisty Regina Opera Company, which is featuring a surprisingly effective, traditional take on the work. It is one of the productions that's part of the NY Opera Fest from the NY Opera Alliance.
I must admit that I was curious about how a small company like this would take on Verdi's AIDA, a work that's synonymous with "grand opera," and do it without significant edits, to boot. The only things cut were part of the ballet in Act II and a couple of intermissions (unlike the Met, where breaks go on for ages). It may not be fancy and not have name singers you recognize, but the attentive audience at Sunset Park's Our Lady of Perpetual Help ate it up and, honestly, I found myself pretty consistently drawn into Linda Lehr's production.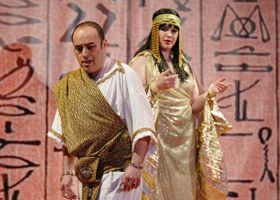 The opera's love triangle consisted of soprano Dilara Unsal in the title role, mezzo Erica Koehring as Amneris and tenor Paolo Buffagni as the warrior they both want. (I went on Sunday May 13 with a cast also set for the 19th; an alternate cast sang on the 12th and will do the 20th.)
Of the three, the clarion-voiced Buffagni came off best, I thought, starting with his killer entrance aria, "Celeste Aida (Celestial Aida)," which he sang elegantly; he sounded even better later in the afternoon after he'd fully warmed up, in his tomb-scene duet with Aida, "La fatal pietra sovra me si chiuse." I also liked the velvety mezzo of Koehring, though she took a bit to get going. She also had to deal with some awkward staging that had her singing from a lying position in Act II, but otherwise the demanding role held no terrors for her.
Soprano Unsal performance was something of a conundrum for me. She has a huge voice well suited to the role but, frankly, it threatened to overpower everything else on stage, as if she were singing in some grand outdoor arena. I liked the basic instrument: It stayed In Focus and, later in the afternoon, was able to float some nice pianissimi. If only she had given one-third less volume, she would have been three times as effective.
The three of them joined together for the opera's great ensemble "O Re: pei sacri Numi! ... Gloria all'Egitto ("O King, by the sacred gods? ... Glory to Egypt!") at the end of Act II, with bass Peter Ludwig as the Egyptian king, baritone David Robinson as Aida's father, and especially effective, bass Antoine Hodge as the High Priest. With the small but well-sung chorus (under chorusmaster/assistant conductor Jestin Pieper), the performance turned quite exciting. The orchestra can never have enough rehearsals in small companies like this, but conductor Gregory Ortega kept things moving nicely.
Other notable work came from tenor Lindell O. Carter as the Messenger and the two dancing high priestesses, Wendy Chu and Kelly Vaghenas. Soprano Christa Hylton was the voice of the High Priestess.
The sets by director Lehr were simple, featuring hieroglyphics and images that might have come from one of the great museum collections of Egyptian art in New York, were just fine, though I wished the Nile Scene in Act III were a bit more differentiated. The colorful costumes were by Marcia C. Kresge and Tamara Belgrave.
I discovered the Regina two years ago--Brooklyn discovered it 46 seasons earlier!--when they did a persuasive LUCIA DI LAMMERMOOR. I paired it in a story about opera in Brooklyn with the then-trendy, now-vanished Loft Opera. Here's to the queen (English for regina) of opera in the borough of kings!
After next weekend's performances of AIDA, the Regina has three free summer concerts in Brooklyn: May 24 @ 6:30 at the Highlawn Library, 1664 W. 13 Street; June 21 at 2pm at the Make Music NY Festival bandstand, 5120 5th Avenue; and June 30 at 1:30, 16 Brighton First Road. For more information, visit their website.