BWW Review: City Opera's AMORE DEI TRE RE Gets the Kiss of Death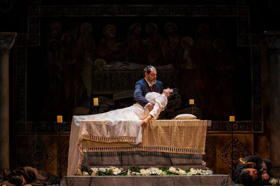 Italo Montemezzi's L'AMORE DEI TRE RE, which played four performances at City Opera's Rose Theate this weekend, is one of those operas that was once a popular vehicle for the right singers. At its premiere at La Scala in 1913, it was greeted as a masterpiece and it proved popular for years at the Met. Today, I'm not sure that even Anna Netrebko and Jonas Kaufmann as the lovers could keep it afloat at the Met.
While it has some fine music--plus a stragulation, poisonings and various other juicy pieces of sturm und drang--as a piece of stage craft it now seems past its sell-by date, at least judging by the efforts of director Michael Capasso with conductor Pacien Mazzagatti and the City Opera orchestra.
This is a story of sex and love (no videotape) from early in the 20th century that's been compared in some ways to both TRISTAN UND ISOLDE and PELLEAS ET MELISANDE, but in a very Italian way. I'm not sure I felt that way after Saturday's matinee, but, as Prince Orlofsky sings in DIE FLEDERMAUS, "Chacun a son gout."
Set in 10th-century Italy (though the sets and costumes by Davd P. Gordon and Janet O'Neill, respectively, seemed to mix centuries and locations), it tells the story of an old blind king, Archibaldo (bass Philip Cokorinos), who jealously guards the beautiful woman, Fiora (soprano Daria Masiero), he has taken from a kingdom he conquered. She has been forced into marriage with his son, Manfredo (an underwritten role that baritone Joo Won Kang gave his best to), who spends most of his time off in war. To keep herself occupied, she carries on with her betrothed from the old days, prince Avito (tenor Raffaele Abete), thanks to the help of the servant, Flaminio (nicely sung here by tenor Alex Richardson).
Archibaldo is desperate to discover the identity of the lover, even after he has strangled Fiora trying to get her to reveal his name. He comes up with an ingenious way of discovering the lover at the lady's funeral, which ends in the deaths not only of the lover, but of the father and son as well.
Though the king is the central role, violently played and intensely sung by bass Cokorinos, the center of the action (even after her death) is the fair Fiora, and there was this production's greatest problem. Soprano Masiero--whose program bio bills her as "one of the most important Italian singers currently performing on the international stage"--neither sang or acted well enough to hold center stage.
She did well enough in the second act duet with Avito (a lively, well-sung performance by tenor Abete), but, mostly, neither her top nor bottom had very much to recommend--missing many choice opportunities in the score--and she didn't show off any particular acting skills. Some of the blame must surely go to the director, but she gave no indication of a singer being caught up in a questionable production.
While Fiora was the center of attention in Act III, it wasn't Masiero's singing that was key. In fact, this most entertaining part of the performance didn't much count on the music for its impact--just that ingenious coup de theatre as she gives a post-mortem kiss of death to the three male leads.
The orchestra under conductor Mazzagatti started out a bit roughly in Act I but was in the swing of it by Act III, when all of that mayhem took place. It was good to get a look at a work with such strong ties to the old City Opera--they did a new production for bass Samuel Ramey as Archibaldo in 1982--but I wish they made a more persuasive case for it this time around.