Amore Opera Presents Puccini's TOSCA and Donizetti's LA ZINGARA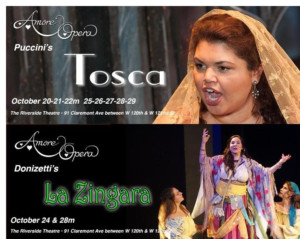 Amore Opera kicks off its tenth season on October 20th with Puccini's Tosca at its home, the Riverside Theater on Manhattan's Upper West Side. This exciting production of Tosca will be presented in fully-staged production conducted by Richard Cordova, with stage direction by Amore Opera's Artistic Director Nathan Hull.
There will be eight (8) performances of Tosca:
Fri Oct 20 (7:30); Sat Oct 21 (7:30); Sun matinee Oct 22 (2:30); Wed Oct 25 (7:30);
Thurs Oct 26 (7:30); Fri Oct 27 (7:30); and Sat Oct 28 (7:30); Sun Oct 29 (2:30)
Amore Opera will also be presenting Donizetti's La Zingara in full production conducted by Douglas Martin, with stage direction by Amore Opera's Artistic Director Nathan Hull.
There will be two performances of La Zingara:
Tuesday, October 24 (7:30) and Saturday, Oct. 28 (2:30)
Tickets for both shows may be purchased from Amore Opera's website, www.amoreopera.org, or by calling OvationTix at 866-811-4111.
About Amore Opera
Now in its ninth season, the Amore Opera is continuing in its mission to entertain, educate and nurture music appreciation in youth, seniors and community members through affordable live performances of classical and overlooked operas, and provide a venue for a diversity of singers and musicians to perform in fully staged and orchestrated productions.
About Tosca
Tosca is one of the most celebrated operas of all time, and Puccini's melodies are beloved not only by opera fans, but by the general populace at large. A melodrama in three acts created after Victorien Sardou's 1900 play La Tosca, Tosca is an opera full of lies, lust, and corruption that turns a tale of love into a struggle for survival. Amid the bloodshed of revolutionary Rome, the diva Tosca becomes trapped between her allegiance to her rebel lover, Cavaradossi, and the scheming of a treacherous police chief, Scarpia, who will stop at nothing in his lust for her. Set to Puccini's intensely passionate music, this gripping melodrama is quintessential opera and presents the composer's most varied and interesting soprano role.
This traditional yet imaginative production features some of the best young singers in the country, accompanied by a full orchestra under the baton of Richard Cordova and directed by Nathan Hull.
About La Zingara
La Zingara was one of Gaetano Donizetti's earliest successes. Written in 1822, it was the first opera he wrote for Naples at the start of his long residency there and was an immediate and enormous hit. This extremely tuneful romp anticipates many of Donizetti's more famous operas but stands by itself for its inventiveness. The story concerns the exploits of the title character, Argilla, the Gypsy girl, who on a single day manages to straighten out the affairs of an entire castle through cunning and wile. Out-Figaroing Figaro, she frees a wrongly imprisoned prisoner, unites a pair of lovely lovers, and topples a tyrannous tyrant. La Zingara is a buffo comedy that owes much to Commedia dell'arte, but it also has many touching moments. Its second act Septet has been critically acclaimed for its innovations and was much admired and studied by Bellini.
Originally, La Zingara had a spoken book written in both standard Italian and Neapolitan. For this production, director Nathan Hull has created a charming and funny English adaptation for the dialogue, but the sparkling score will be sung in the original languages. La Zingara will be conducted by Amore veteran Douglas Martin leading a full orchestra and starring a brilliant cast of some of Amore Opera's favorite singers.
Tosca Performances
Friday, October 20, 7:30 p.m.
Saturday, October 21 7:30 p.m.
Sunday, October 22 2:30 p.m.
Wednesday, October 25 7:30 p.m.
Thursday, October 26 7:30 p.m.
Friday, October 27 7:30 p.m.
Saturday, October 28 7:30 p.m.
Sunday, October 29 2:30 p.m.
La Zingara Performances
Tuesday, October 24, 7:30 p.m.
Saturday, October 28 2:30 p.m.
Admission
Tickets for Tosca and La Zingara are $45 for adults and $35 seniors, students & children. (Partial view tickets available from $30-$25). Tickets can be purchased directly through the Amore Opera Website at www.amoreopera.org or by calling 886-811-4111.
Riverside Theater
The beautiful Riverside Theater is conveniently situated in Manhattan's Upper West Side at the corner of West 120th St. and Claremont Ave (91 Claremont Avenue). Located in Riverside Church, it is a fully equipped opera house which offers full handicapped accessibility including an elevator to the theatre level. There is also garage parking available.