Yamantaka/Sonic Titan Release First Single Since 2013; Announce Tour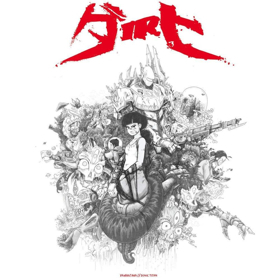 Noh-Wave prog collective Yamantaka // Sonic Titan has unveiled the first track from their forthcoming third album, DIRT. The four-minute single, "Someplace," is netted with quivery fingerpicked guitars and ethereal vocals, lurching toward a climactic prog frenzy. Listen to the track today via FADER.
Yamantaka // Sonic Titan were never ones to fit neatly into one category-or even one artistic discipline. Functioning chiefly as a Noh-Wave prog collective, YT//ST also operates as a black-and-white (and sometimes red) theatre company, an operatic psych cult, and the speculative prophets of humanity's impending doom. Above it all, though, they're a thunderous rock band, a statement they will be calcifying with the release of DIRT. "Someplace" serves as indisputable evidence of YT//ST's commitment to craft.
"'Someplace' is about being in a situation that is familiar but isn't really serving you or giving you purpose," the band said of the track. "Wanting to move on, to blast past your old concerns and go on. You'd rather be someplace new and potentially dangerous than accept the slow decay of the situation you're already in. It's time to go faster, to get more and go further."
DIRT, TRACK LISTING:
1. Karonhiake
3. Dark Waters
4. Yanders
5. The Decay
6. Beast
7. Hungry Ghost
8. Dirt
9. Tawine
10. Out Of Time
YAMANTAKA // SONIC TITAN - ON TOUR
March 14, 15, 16 @ SXSW (Austin, TX)
Sunday, March 18 @ The Earl (Atlanta, GA)
Monday, March 19 @ Duke University (Durham, NC)
Tuesday, March 20 @ Union (Washington D.C.)
Sunday, March 25 @ Middle East (Cambridge, MA)
Tuesday, March 27 @ L'Escogriffe (Montreal, QC)
Wednesday, March 28 @ L'Anti (Québec City, QC)
Thursday, March 29 @ Baby G's (Toronto, ON)
Friday, March 30 @ Refined Fool Brewing Co. (Sarnia, ON)
Wednesday, April 4 @ Amigos (Saskatoon, SK)
Friday, April 6 @ The Palomino (Calgary, AB)
Saturday, April 7 @ The Bartlett (Spokane, WA)
Sunday, April 8 @ Vera (Seattle, WA)
Tuesday, April 10 @ Bottom of the Hill (San Fransisco, CA)
Tuesday, April 17 @ Barleycorns (Wichita, KS)
Wednesday, April 18 @ Riot Room (Kansas City, MO)
More Hot Stories For You