Truth Club Announces Debut Album 'Not An Exit'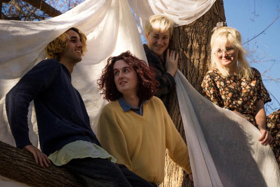 Tiny Engines is thrilled to announce its latest signing Truth Club, the Raleigh quartet whose guitar rock recalls the minimalist sounds of Parquet Courts, Ought, Flasher, and Protomartyr. The band's debut album Not An Exit will be released on May 3, and today they share its title track. Stereogum, who premiered the song today, call it "an intense and nervy song about being trapped within yourself and coming to the realization that there are no easy outs. Threaded through are Travis Harrington's vocals, which howl and growl and lock in dead-eyed with the rest of his band."
Not An Exit is available for pre-order HERE.
The Raleigh-based four piece Truth Club make a place for themselves in the extremes. Pivoting between a vocal-focused minimalism and a more traditional, energetic full band sound, the group's distinctness is in their exploration of dynamics and movement. Travis Harrington's voice, which made its prodigal debut in the Wilmington project Astro Cowboy, expressively parallels the motion of the instrumentals, sometimes clear and soaring above the rest, other times almost mumbling in a deep stark and spoken cadance. And his lyrics similarly seem to battle between optimism versus defeatedness, nostalgia versus reality. The image-based confessionalism and vocal layering hangs over the warbling guitar, at times creating an intensity that is unsettling and slightly dissonant, although softened by the accompanying vocals of Yvonne Chazal.
Despite being categorically indie rock, Truth Club avoids formulaic instrumentation or predictability. Drummer Elise Jaffe experiments with changing drum patterns, while wavering synths, drum machines and spiraling guitars collide with one another. Kameron Vann and Travis transferred the energy from their formative band Astro Cowboy into a new but recognizable entity that grew and matured musically alongside their friendship. In 2019 Truth Club will debut their long-awaited full length with the North Carolina-based label Tiny Engines, officiating them as a new staple of the expanding musical horizon that the south has come to offer.
Photo credit: Logan Murray
Related Articles View More Music

Stories