The War and Treaty's Debut Full-Length Album HEALING TIDE to be Released August 10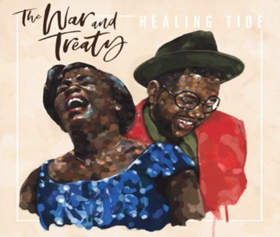 The War and Treaty's anticipated new full-length debut, Healing Tide, will be releasedAugust 10 on Strong World/Thirty Tigers and is now available for pre-order. In advance of the release, the powerhouse duo, Michael Trotter Jr. and Tanya Blount-Trotter, is debuting the album's title track today (listen/share here). Additionally, the album trailer is now available to view/share here.
Healing Tide was produced by Buddy Miller (Emmylou Harris, Patty Griffin, Wood Brothers) and was recorded at Miller's home studio over five days in March 2018. It includes 11 songs written solely by Michael and features Tanya (vocals), Michael (vocals, piano, Wurlitzer, Rhodes) and Miller (guitars, banjo) as well as Brady Blade (drums), Adam Chaffins (bass), Jim Hoke (organ, saxophone, autoharp, harmonica), Russ Pahl (pedal steel, banjo), Sam Bush (fiddle), Bill Huber (trombone), Matt Slocum (cello) and special guest vocalist Emmylou Harris on "Here Is Where the Loving Is At."
Of the mission behind the album, Michael comments, "I hope people see our hearts on this record...I want people to feel like we care. When you think about artists you don't think about that, but that's the way I want the world to feel about The War and Treaty."
The duo will tour throughout 2018 in support of the album including festival stops at Bonnaroo Music Festival, Newport Folk Festival, Telluride Bluegrass Festival, Pickathon and AmericanaFest among many others. In addition to the festival performances, they will also join the Indigo Girls on a series of dates this summer. See below for complete details.
Michael and Tanya took distinctly different paths to becoming The War and Treaty.Michael is a wounded warrior who found his voice while serving in Iraq, when he was pulled from the frontlines to write songs for the fallen. Tanya is a lifelong artist, drawn to singing's power to take another's pain away. The two met while performing at the same festival and became inseparable, going on to get married and create the musical collaboration that is The War and Treaty.
The release of Healing Tide follows a breakout year for the Albion, Michigan-based duo, whose debut EP, Down to the River, came out last July. The War and Treaty made headlines after a breakthrough performance at the 2017 Americana Music Festival & Conference, stepping up to fill an ill Buddy Miller's spot. Rolling Stone highlighted the performance in their "AmericanaFest 2017: 20 Best Things We Saw," praising, "Michael Trotter Jr. and Tanya Blount-Trotter nearly leveled the Cannery Ballroom...Mixing primitive blues, R&B and gospel-style shouting, War & Treaty's songs...were tense and hypnotic, shrouded in darkness but punching their way to the light." Additionally,Billboard featured the duo as one of "The 10 Bands You Need to Know About for This Year's Festival Season" declaring, "two talents whose chemistry in the live setting is raw, joyous and spectacular. Both Trotter and Blount are propulsive singers, and their band seamlessly blends bluegrass, folk, gospel and soul."
Related Articles
View More Music

Stories