The Jesse Peterson Quartet Will Release New Album MAN OF THE EARTH June 13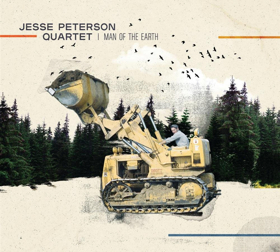 In its debut album, Man of the Earth, the Jesse Peterson Quartet springs into jazz, pounces on it. Drums, bass, sax, and piano arrive fully conscious from the first minute, ready to tussle and muse through these eight evocative compositions by Jesse Peterson. The performances are energetic and smart, and the recordings capture a group of musicians caught up in the euphoria of invention, precision, and play. Peterson's unique brand of midwestern-grown melodic indie jazz does not tread with a light, sophisticate's step. Despite their subtlety and wit, these songs feel sturdy, hearty, corn-fed. This jazz leaves tracks in the mud.
The title track, "Man of the Earth," shows off a tonal and rhythmic diversity that characterizes the album. Raw pentatonic patterns provide a foundation for a colorful, complex melody that ascends and swirls above. An easy swing parries with driving subdivisions. Restraint and subtlety give way to kinetic crashes and splashes. Amid all this movement, the band shifts confidently, unified in improvisational freedom and in written lines.
The name of the album and title track refer to Peterson's father, whose capacity for earnest work and play inspired some of the songs and shaped his son's approach to music. He owned and operated a trucking and landscaping company for most of his life, and left an imprint that can be felt in the hulking joie de vivre of these songs. This rootedness in earth and family tethers the complexity and experimentation of the album to something narrative, grounded.
Peterson, as a composer and drummer, takes us places. He puts on jazz as a lens and sees America. These songs describe the America he grew up in, rural Minnesota, a realm of space, humble earthbound hymns and motor oil. They also show us his home in New York City, a brusque, impatient world, clogged with humans and clamoring with ambition. Throughout the album, these two locales sometimes appear with distinction, clarity, but at other times they meet, they comment on each other, they clash and step on each other's toes.
Songs like "Hibbing BMX Life Experience" and "Bucko is Relocating" also show Peterson's range of musical influence. He doesn't shy away from the fun of up-tempo rock, brassy Broadway grandeur, or the gleeful quarter-note drive of mashing keys. These pronounced styles become the object of the band's commentary, as the players alternately lose themselves in the spirit of each moment, and then turn the themes into opportunities for variation, deconstruction.
Thus Man of the Earth becomes a series of arrivals and departures, at times landing in a place of familiarity, nostalgia, and warmth, only to lift off in the next moment, soaring into abstraction. "The Factors" begins with a minimalist cycle of bass and drums. Sax and piano sing along, sometimes gracing the established key, at other times resisting, pulling up into an airy bitonality. This opening gives way to a second movement, a rousing Afro-Cuban groove with a cascading melody floating over it. In this section, the sax shifts in and out of structured melody, accenting the formal strength of the song with bursts of improvisation. The song grows and matures and leaves home, but finds its way back in the end. Conceptually and musically, Peterson follows this cycle throughout the album, a cycle that loops and spirals and soars, yet always begins and ends in the same elements, the same clay.
The album displays the quartet's stellar musicianship in "Have a Winnebago Winter," which opens with a shimmering riot of drums. Listeners can delight in Peterson's technical command of the set, noting the rapid, confident interplay of patterns, tempi, and traditions. But he employs his craft with purpose. Peterson positions his drumming in different roles throughout the album, sometimes playing the rowdy and talkative star, sometimes a supportive role, but in every instance, Peterson's mind, heart, and hands work together to turn the set into a voice, an expressive tool. A minute into "Winnebago Winter," the bass steps in from the drum break with a sly, probing line, the piano tumbles in from on high, lands on the bass line to parallel it, fatten it. As soon as the group settles into a groove, Peterson enlivens it, finding rhythmic pockets that are somehow mathematical and soulful, making for a sound that is at once versatile and coherent. This quartet maneuvers boldly, decisively, bringing character to each articulate song.
Peterson writes and plays with feeling. These melody-driven songs each speak of something human. "Fer da Kids" gives us a grown-up looking back at the pure frivolity of childhood, a rousing revisitation tinged with longing. "You Remember Mort" delivers a poignant eulogy, a gray interior, and a progression that paces back and forth between solace and tension. And in "Blessing in Between," a wistful passage sets the stage for an epic climb, and we hear quiet introspections become strivings, strainings, a crescendo of earnest emotion. No matter what the feeling, Peterson engages it directly, writing from the gut, never washing off the grit of memory, grief, or glory.

The Jesse Peterson Quartet makes jazz feel fresh and knowing, fierce and good-natured.Man of the Earth invites audiences to move, to imagine, to listen in on stories and impressions and meditations from an inspired composer and four compelling musical voices worth the airtime.