The Growlers Announce Fall Shows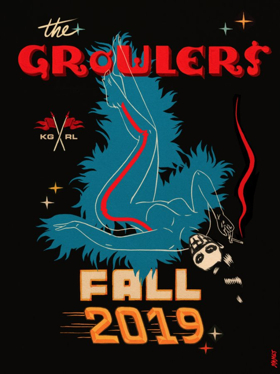 Following up on their 25-date Summer 2019 Tour, LA's favorite garage-psych weirdos The Growlers bring their traveling party to 25 more cities this fall.

The tour kicks off September 5 and rides straight through October with two-night stands in Chicago and Seattle, a five-night Florida run that includes the Sing Out Loud Festival (alongside Kacey Musgraves, Kurt Vile, and Phosphorescent), and first-time plays in Northampton, MA, Chattanooga, TN, and Lexington, KY.

The fall tour includes another first for The Growlers - the band's debut at NYC's Central Park SummerStage on September 14. They'll end with a pair of their annual Beach Goth Halloween shows on October 31 and November 1 at the legendary Hollywood Palladium, Los Angeles.
From their first LP Are You In or Out? (2009) to their latest LP Casual Acquaintances (2018), The Growlers have forged their own twisted path on the global music scene. They're the party band that grew into a traveling circus that spawned their own hit event, Beach Goth. Lead singer Brooks Nielsen draws a particular devotion among Growlers fans, as does chief cohort Matt Taylor, The Growlers' music director and lead guitarist. The band's 2016 LP, City Club, produced by Julian Casablancas, saw them expand their palette to include West African, dance and electronic influences.

Tickets for The Growlers Fall 2019 Tour go on sale starting this Friday, April 24 (10am local time).
The Growlers Summer + Fall 2019
7/17 The Van Buren, Phoenix, AZ
7/18 Ogden Amphitheater, Ogden, UT
7/19 Ogden Theatre, Denver, CO
7/20 Ogden Theatre, Denver, CO
7/21 CrossroadsKC, Kansas City, MO
7/23 Agora Theatre, Cleveland, OH
7/24 Club XL Live, Harrisburg, PA
7/25 Asbury Hall, Buffalo, NY
7/26 Danforth Music Hall, Toronto, ON
7/27 Rialto Theatre, Montreal, QC
7/28 Skyloft, Albany, NY
7/31 The Stone Pony, Asbury Park, NJ
8/1 Elevation27, Virginia Beach, VA
8/2 Neighborhood Theatre, Charlotte, NC
8/3 Variety Playhouse, Atlanta, GA
8/4 Music Farm, Charleston, SC
8/7 Varsity Theatre, Baton Rouge, LA
8/8 White Oak Music Hall, Houston, TX
8/9 Paper Tiger, San Antonio, TX
8/10 Granada Theater, Dallas, TX
8/13 Palp Festival, Bagnes, Switzerland
8/15 E-Werk, Erlangen, Germany
8/16 Lowlands, Biddinghuizen, NL
8/17 La Route Du Rock, Saint-Malo, France
8/18 Green Man, Brecon Beacons, Wales, UK
9/5 Rust Belt, East Moline, IL
9/6 Metro, Chicago, IL
9/7 Metro, Chicago, IL
9/8 The Majestic Theatre, Detroit, MI
9/10 College Street Music Hall, New Haven, CT
9/11 Pearl Street, Northampton, MA
9/12 Union Transfer, Philadelphia, PA
9/13 Black Cat, Washington, DC
9/14 Central Park SummerStage, New York City, NY
9/17 Songbirds, Chattanooga, TN
9/18 Vinyl Music Hall, Pensacola, FL
9/19 Crowbar, Tampa, FL
9/20 Culture Room, Fort Lauderdale, FL
9/21 The Plaza Live, Orlando, FL
9/22 Sing Out Loud Festival at Backyard Stage
9/25 Orange Peel, Asheville, NC
9/26 The Burl, Lexington, KY
9/27 Turner Hall Ballroom, Milwaukee, WI
9/28 First Avenue, Minneapolis, MN
10/1 Ace of Spades, Sacramento, CA
10/2 TBA, Arcata, CA
10/3 Crystal Ballroom, Portland, OR
10/4 McDonald Theatre, Eugene, OR
10/5 The Showbox, Seattle, WA
10/6 The Showbox, Seattle, WA
10/31 Hollywood Palladium, Los Angeles, CA
11/1 Hollywood Palladium, Los Angeles, CA
Related Articles
View More Music

Stories