SiriusXM Outlaw Country to Air "I Want to Go Home: An Outlaw Tribute to Bobby Bare" In Celebration of Legend's 84th Birthday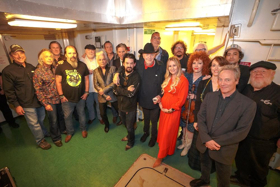 The Country Music Hall of Fame said it best when they opened the Outlaws and Armadillos exhibit in May of 2018, Bobby Bare originated "Outlaw Country" when he became the first artist of the era to gain control of his productions, leading to the likes of Willie, Waylon and the boys following suit. In celebration of the Country Music Hall of Famer's 84th birthday on April 7 and over 60 years in the music business, SiriusXM's Outlaw Country will air an all-star tribute concert recorded on the 4th annual Outlaw Country Cruise. The two-hour special will air on SiriusXM Outlaw Country, Channel 60 on Friday, April 5 at 8 p.m. ET, Saturday, April 6 at 10 p.m. ET and Sunday, April 7 at 12 p.m. ET and be available OnDemand through the SiriusXM app on smartphones and other connected devices, as well as online at siriusxm.com.

"I Want to Go Home: An Outlaw Tribute to Bobby Bare" was hosted by actor W. Earl Brown (Deadwood, The Highwaymen) and the two-hour concert features covers of songs associated with Bare performed by an all-star cast including Steve Earle & The Dukes("New Cut Road"), Margo Price ("Tequila Sheila"), The Flatlanders - Joe Ely, Jimmie Dale Gilmore, Bruce Hancock ("500 Miles"), Shooter Jennings ("Quaaludes Again"), Mike Cooley of the Drive-By Truckers ("Dropkick Me Jesus"), John Doe ("The Streets of Baltimore"), Jim Lauderdale ("Miller's Cave"), Dale Watson ("That's How I Got to Memphis"), Jesse Dayton with Doug Kershaw ("Marie Laveau"), Laura Cantrell ("Four Strong Winds"), Dallas Wayne ("Margie's at the Lincoln Park Inn") - fronting the ace Austin, TX-based band Heybale!, that backed many of the artists on the show - Bobby Bare Jr. ("Daddy What If") and Bobby Bare himself closing the show with an all-hands-on-deck singalong of his signature hit "Detroit City" with its chorus "I want to go home."

"Thanks to all of my friends for being part of this special moment for me, especially Jeremy Tepper and the teams at SiriusXM and the Outlaw Country Cruise. It's been a good run and I'm excited for what's to come," said Bare.

About Bobby Bare
Born in Ohio, Country Music Hall of Fame and Grand Ole Opry member Bobby Bare is one of the most iconic country artists of our time with chart-topping songs like "Detroit City," "500 Miles," "Marie Laveau" and many more. From country legends like Little Jimmy Dickens and Hank Williams to big band acts like Phil Harris and the Dominoes, Bare's style was molded and led him to nearly five dozen Top 40 hits from 1962 to 1983. The original "Outlaw" of country music, Bare was honored with many awards and accolades, multiple GRAMMY nominations and wins and an induction into the Country Music Hall of Fame in 2013. In 2017, Rolling Stone named him in the top 50 of the "100 Greatest Country Artists of All Time." 2018 marks his 60th anniversary in the music business and the release of his studio album, Things Change, and two new music videos. The Outlaw Country legend continues to play sold out select dates throughout the United States and internationally. April of 2018 marked his 83rd birthday and a pinnacle moment in history as he was welcomed back home as a member of the Grand Ole Opry by Garth Brooks. For more information, visit www.bobbybare.com.

About SiriusXM Outlaw Country
Created and executive produced by Steven Van Zandt, SiriusXM's Outlaw Country plays country rebels like Johnny Cash, Waylon Jennings, Willie Nelson, Bobby Bare, Chris Stapleton, Steve Earle, Lucinda Williams, Sturgill Simpson and Jason Isbell and features shows hosted by Steve Earle, Buddy Miller & Jim Lauderdale, Mojo Nixon, Elizabeth Cook, Shooter Jennings, Johnny Knoxville & Roger Alan Wade, Hillbilly Jim, Paula Nelson and Dallas Wayne. Available on SiriusXM Channel 60 and on the SiriusXM app and connected speakers and devices.
Image: (L to R): Floyd Domino, Jim Lauderdale, Mark Spencer, Steve Earle, Dallas Wayne, Dale Watson, Kevin Smith, John Doe, Shooter Jennings, Bobby Bare, Tom Lewis, Margo Price, Bobby Bare Jr., Eleanor Whitmore, Chris Masterson, Laura Cantrell, Ricky Ray Jackson (rear), Jimmy Ryan (foreground), Redd Volkaert backstage at the Stardust Theater onboard the Norwegian Pearl
Photo Credit: Will Byington Photography
Related Articles
View More Music

Stories
More Hot Stories For You