Secret Stages Festival Full Lineup Announced with OSHUN, Daddy Issues, Sa-Roc, & More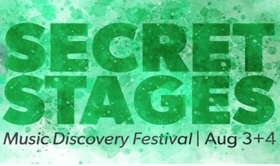 Secret Stages is a two-day music discovery festival that takes place in Birmingham, AL on August 3-4, 2018. Each year since 2011, Secret Stages has continued to bring an impressive mix of independent folk, rock, and hip-hop artists to a variety of venues in Birmingham. The full lineup for this year announced today with 50+ emerging and under the radar acts includingOSHUN, Sa-Roc, Daddy Issues, Translee, Courtney Marie Andrews, Sammus, Pearl Charles, Ruby Boots, Erin Rae, The Lees Of Memory, SilaS, Mattiel, Tanya Montana Coe, Reality Something, TiDUS, Caroline Says, The Minks, Will Stewart, and many more. Please see below for the full lineup (graphic + text) and click here for more information on the artists.
Tickets for Secret Stages are on sale now with VIP, Weekend, and Day passes available here: https://www.secretstages.net/tickets/. Press passes are available upon request!
SECRET STAGES FULL LINEUP
729 (Birmingham, AL)
Airpark (Nashville, TN)
Amanda Glasser (Baltimore, MD)
Andrew Bryant (Oxford, MS)
BassHead Jazz (Mobile, AL)
BÊNNÍ (New Orleans, LA)
Captain Kudzu (Birmingham, AL)
Caroline Says (Austin, TX)
CHEW (Atlanta, GA)
City Electric (Fairhope, AL)
Courtney Marie Andrews (Phoenix, AZ)
D. Horton (Columbus, MS)
Daddy Issues (Nashville, TN)
The Difference Machine (Atlanta, GA)
Dogwood Lung (Auburn, AL)
Dommel Mosel (Birmingham, AL)
Dope KNife (Savannah, GA)
A Drug Called Tradition (Atlanta, GA)
Erin Rae (Nashville, TN)
Erthling. (Birmingham, AL)
Ex-Gold (Knoxville, TN)
Flamingo Shadow (Atlanta, GA)
G.I. Magus (Birmingham, AL)
In Snow (Birmingham, AL)
The Invisible Teardrops (Florence, AL)
Jovani Occomy (Huntsville, AL)
Julie Odell (New Orleans, LA)
Kadesh Flow (Kansas City, MO)
The Lees Of Memory (Nashville, TN)
Mattiel (Atlanta, GA)
Me and My Knife (Birmingham, AL)
The Minks (Nashville, TN)
Opin (Richmond, VA)
OSHUN (New York, NY)
Pamela_ and her sons (Philadelphia, PA)
Pearl Charles (Los Angeles, CA)
Phantom Limb (Birmingham, AL)
Reality Something (Nashville, TN)
Roscoe (Birmingham, AL)
Ruby Boots (Nashville TN)
Sa-Roc (Atlanta, GA)
Sammus (Philadelphia, PA)
Seriously (Birmingham, AL)
Seth Graham (Dayton, OH)
Shaun Judah (Birmingham, AL)
SilaS (Jackson, MS)
Tanya Montana Coe (Nashville, TN)
Telefones (Nashville, TN)
TiDUS (New Jersey)
Translee (Huntsville, AL)
Will Stewart (Birmingham, AL)