Nina June Releases New Single 'Till Dawn' Today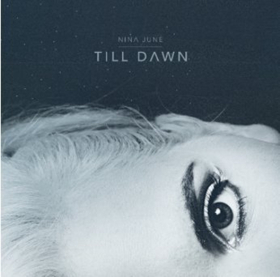 Nina June's new single 'Till Dawn' is released today. The track is from her forthcoming global debut album, out via Ostereo Records March 16th, 2018. 'Till Dawn' is the follow up to her independent singles 'For Love', 'We Watched It All Come Down' and 'When We Fall' (Featured in the MTV show Catfish) which have been championed by Spotify with over 4 million streams and counting.
'Till Dawn' has already been added to Spotify's New Music Friday Playlists In The Netherlands, Sweden, Norway and Iceland, The track also has the support of brands including Jimmy Choo, LK Bennett, Hobbs and Farrow & Ball who have added the track to their global in-store playlists.
Listen to 'Till Dawn on YouTube
'Till Dawn' is produced by Nina & Lieuwe Roonder, mixed by Tim Bran (Halsey, London Grammar, Neon Indian) and the track is about a love that can only exist in the period between dusk and dawn. It's about a forbidden love, two people who can only express their feelings in a world parallel to reality. It's about the rush, the dark side, but also about true love. The track's inspiration came from an unlikely source, an OB6 analog synth her producer had acquired. "It's always fun to have a new instrument because it inspires you to go down new places musically. Till Dawn again felt like the beginning of a new journey, within a bigger musical journey."

Nina June, a talented composer and musician was born in the Netherlands, now living in Amsterdam. Having only just launched in 2016, Nina has already garnered big hometown support including national television (De Wereld Draait Door) as well as the national newspaper Trouw. As Nina has grown she has had live session and playlist support from the largest national radio station in Holland, Radio 2 where 'For Love' was voted one of the best tracks of 2016. She was also featured in Hot Tips on i-Tunes.

'For Love' also entered the viral top 50 chart and has over 2 million streams to date with 'We Watched It All Come Down' being featured in Spotify's coveted New Music Friday in addition to numerous other Spotify playlists. With a growing fanbase Nina has already played sold out venues including the legendary 'Paradiso', a national theatre tour and shows across the UK. Nina's sound combines organic and electronic influences and find inspiration in the songs of Agnes Obel, Ane Brun, The Japanese House, SOHN, the soundtracks of American Beauty and Les Intouchables and the instrumental music of René Aubry and Chilly Gonzalez. The result - a series of atmospheric, cinematic pop songs.