MYKKI BLANCO Announces Winter Tour with MØ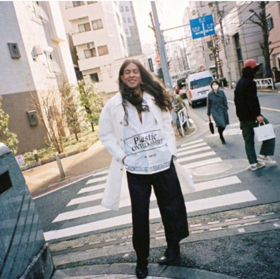 Mykki Blanco is happy to announce he has a confirmed a tour on the West Coast supporting MØ. The run kicks off on January 29th in Seattle and finishes February 9th in Oakland. The Los ANgeles date of this tour is February 7th at the Wiltern Theater. Following the tour with MØ, Mykki will perform at Pitchfork's inaugural Midwinter festival in Chicago on February 15. And to open up what will be a very busy summer festival season for Mykki, he will perform at Primavera Sound in Barcelona on May 30.
All dates listed below!
2019 will see the release of new music from Mykki and without doubt, many more tour dates on his calendar.
Mykki Blanco is an internationally renowned musician, performing artist and LGBTQ+ activist. His self-titled debut album was released in 2016. He is also the person behind mixtapes like Gay Dog Food, and the groundbreaking mixtape that defined the "Queer Rap" genre "Cosmic Angel". Blanco has created cult hits like Kingpinning with sensational videos like Coke White, Starlight, The Initiation, Wavvy, Haze Boogie Life, the award-winning "High School Never Ends" and his latest Wypipo short film. The multi-faceted star continues to crossover from the underground having toured with the likes of Bjork, Major Lazer and Death Grips while working with such diverse musicians as Kanye West, Kathleen Hanna and Woodkid. Mykki Blanco remains a creative polymath whose journey from artist to seasoned musician is as exciting to watch as it is to listen to.
Mykki Blanco On Tour:
1/29/19 - Showbox SoDo - Seattle, WA +
1/30/19 - The Commodore - Vancouver, BC +
1/31/19 - Roseland Theater - Portland, OR +
2/2/19 - Ace of Spades - Sacramento, CA +
2/5/19 - The Observatory North Park - San Diego, CA +
2/7/19 - The Wiltern - Los Angeles, CA +
2/8/19 - The Observatory - Santa Ana, CA +
2/9/19 - Fox Theater - Oakland, CA +
2/15/19 - Pitchfork Midwinter - Chicago, IL
4/26/19 - Querelle Festival - Helsinki, FI
5/30/19 - Primavera Sound Festival - Barcelona, ES
+ Supporting MØ
Photo By: Yosuke Demukai