LA-Based Composer Christopher Sky Releases VASTNESS LP Via Aagoo Records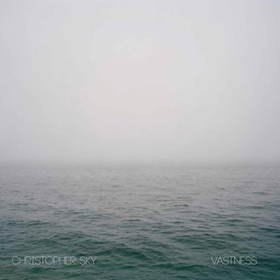 Aagoo Records has released the 'Vastness' LP. This is the third full-length album from LA-based composer and multi-instrumentalist Christopher Sky (a.k.a. Christopher Garcia), who just completed a successful series of UK and European tour dates in December.

This album follows up his 'By the Ocean' EP, released in January of 2018 - his first solo work in seven years. A rare one, this limited edition bone-colored vinyl is limited to a run of only 75 copies via Aagoo Records. Here, once again, he offers shimmering compositions that feel boundless despite their brevity.

The lead track off this LP is 'End of an Era', a slightly dark, but lovely and mysterious song, about which Sky says "I picture a box opening and sounds pouring out".
Employing guitar, rhodes piano, electronics and loops, Christopher Sky crafts soundscapes that feel boundless and expansive. Constantly evolving, each piece adopts nuanced textural and rhythmic motifs as both narrative devices and atmospheric signifiers.
Counting Ryuichi Sakamoto, Erik Satie, The Album Leaf and Christian Fennesz as influences, Sky's deft handling of space and scale delivers some truly beatific vistas that are both inviting and transportive.

Perfectly placed incidental sounds are mapped out across the album's duration. Rather than serving as instrumental adornments, they become musical signposts. As with William Basinski's Disintegration Loops, the act of listening becomes an exploration of the details, while being gently guided by the ambience.

Whether employing glitchy rhodes tones, crackling static or eerie reverberating percussion, Sky masterfully creates and sustains an atmosphere, then transforms it subtly, carrying the listener effortlessly through and between tracks with finesse.

The 'Vastness' LP is out now on vinyl through Aagoo Records and digitally via Hidden Shoal. It is available physically from Aagoo at http://aagoo.com and digitally at http://aagoo.bandcamp.com/album/christopher-sky-vastness
Related Articles
View More Music

Stories
More Hot Stories For You