KERLI Announces YouTube Livestream of New Album 'Shadow Works'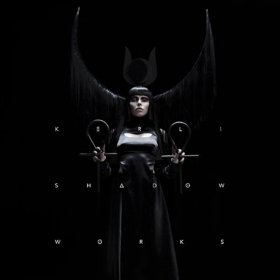 As anticipation from fans reaches fever pitch, KERLI today confirmed her album 'Shadow Works' will be heard for the very first time when it livestreams 24 hours before release on leading YouTube channel MrSuicideSheep.
In what is essentially a live show, fans can tune in at 11am PST on February 21st to hear the long player from start to finish, before it disappears again. The Estonian singer/songwriter will be online during the entire performance taking questions and comments, giving fans unprecedented if only momentary access to one of electronic music's most enigmatic and alluring artists.
Avant-garde and mysterious, KERLI is Estonia's most successful recording artist and has amassed an almost cult-like following among music fans. Signed to Island Records in 2006, she released 1 album and 2 EP's before deciding to go independent. She has creatively directed multiple music videos and wrote Demi Levato's smash single 'Skyscraper'. As a featured vocalist she has produced alongside the likes of Illenium ('Sound Of Walking Away', 'Sound Of Where'd You Go'), SNBRN ('Raindrops'), Benny Benassi ('Kaleidoscope'), Seven Lions ('Keep It Close', 'Worlds Apart') and many more.
With the full 'Shadow Works' album due out on February 22nd, the chance to get a first listen alongside the artist herself is something die-hardKERLI fans will not want to miss out on. To attend, tune in to https://www.youtube.com/user/MrSuicideSheep from 11am PST on February 21st.
Avant-Garde, mystical and magical are just some of the ways her fans describe KERLI's music. This unique artist has defied genre and created a musical world all her own. Hailing as Estonia's most successful musical artist, KERLI has charted in Billboard multiple times with her own music, as well as with music she has written for other artists, such as 'Skyscraper' for Demi Lovato. Her most diverse and eclectic body of work to date, her third album, titled 'Shadow Works' is set to release in February 22nd on MrSuicideSheep's imprint.