Jimmy Barnes Announces Final Sydney WORKING CLASS MAN Shows!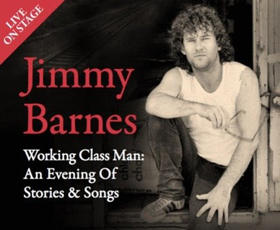 Jimmy Barnes has announced the final two shows on his Working Class Man: An Evening of Stories & Songs tour in Sydney at the Joan Sutherland Performing Arts Centre in Penrith on Friday, 1 June and the Concourse Concert Hall in Chatswood on Saturday, 2 June 2018. Tickets to both shows go on sale at 10.00am on Friday, 16 February 2018.
Jimmy's critically acclaimed new memoir "Working Class Man" went straight to #1 on the Neilsen Bookscan chart and, like its predecessor "Working Class Boy", has already been nominated in the Non-Fiction category in the 2018 Indie Book Awards. Although only launched at the end of October, "Working Class Man" was the bestselling title in the Biography/Autobiography category in 2017 and the best selling title in the Australian market for the first two weeks of sales. To date (to the 20th Jan 2018), a staggering 115,000 Australians have bought a copy of "Working Class Man". The new Working Class Man: An Evening of Stories & Songs tour has already struck a chord with fans around Australia with shows in Thirroul (x 2), Canberra (x 2), Devonport, Newcastle, Bathurst, Brisbane, Toowoomba, Gold Coast, Port Pirie, Adelaide, Frankston, Geelong, Melbourne, Bendigo, Cairns (x 2), Townsville and Caloundra all SOLD OUT. One Sydney Town Hall show has also sold out and very limited tickets remain for the other show at that iconic venue on 2 May. Working Class Man: An Evening of Stories & Songs and the brand-new book - both written entirely by Jimmy - each begin in 1974 as he leaves Adelaide in the back of an old bread truck with a then unknown rock group called Cold Chisel. They trace the legendary band's long climb to the top and their subsequent implosion. The story then picks up as Jimmy carves out a new solo career for himself. He becomes the country's biggest rock star before drugs and alcohol bring him to his knees and he eventually rebuilds his life thanks to the love of his wife and his family. Critics agree it's a spellbinding and searingly honest reflection on success, fame and addiction:
"It's a fascinating insider's view of the Australian music industry and the highs and lows of fame ... He constantly flirts with self-destruction and death (but) this is not just a tale of doom and gloom. It has passages that are uproariously funny. But in the end Working Class Man is a torch song to the healing power of mateship, love and family" - Herald Sun

Tickets for all remaining dates are selling fast. Fans are reminded to only buy tickets by following the direct ticket links here. People who choose to ignore this clear advice and who instead use search engines like Google to find tickets typically get steered to unofficial reselling sites like Viagogo that often lead to rip offs.
NEW SHOWS
Friday, 1 June 2018
Joan Sutherland Performing Arts Centre
(Richard Bonynge Concert Hall), Penrith NSW
Tickets available from the venue - 02 4723 7600 and
www.thejoan.com.au
Saturday, 2 June 2018
Concourse Concert Hall, Chatswood NSW
Tickets available from venue - 02 8075 8111 and
Ticketek -
www.ticketek.com.au
| 132 849

Tickets for the new shows in Penrith and Chatswood will go onsale at 10.00am on Friday, 16 February 2018.
Working Class Man: An Evening of Stories & Songs will also help promote the
GOOD WORK
of Lifeline (www.lifeline.org.au) as Jimmy will be drawing further attention to the issues of addiction and mental health in both his new book and live show.

To coincide with the release of "Working Class Man", Bloodlines/ Mushroom have released a limited edition, commemorative version of one of the greatest Australian rock albums of all time, For The Working Class Man,which includes a never before released DVD from the legendary Playroom in Queensland in 1984.
Related Articles View More Music

Stories