Grammy Winner Tim Kubart Releases 'Building Blocks' On September 28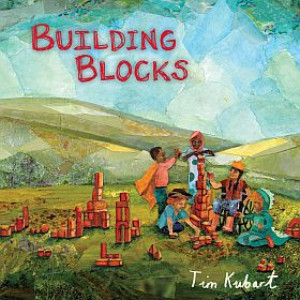 Grammy Award-winning artist Tim Kubart will release an album of 12 original songs, Building Blocks, on September 28th. Building Blocks is a pop celebration all about growing: growing wiser, growing bolder, and, above all, growing our circle of caring for family, friends, and those around us. View the newly released "Day One" music video on YouTube.
Tim Kubart is the 2016 Grammy Award-winner for Best Children's Album, a television and podcast host, children's book author, and Sesame Street songwriter. He has earned a prominent place in the family music world for get-up-and-dance tunes that connect with kids by speaking to the experiences that shape their world.
With joy-filled songs about events and activities from the first day of school to field trips and block parties, Building Blocks celebrates the way new challenges bring new opportunities to care. Songs like "Ready for You," about welcoming a new pet home, capture what it means to feel ready for this big step with the words "It's not just me anymore. There's room in my heart for yours" and "I've been taking good care of myself, I think I'm ready to take care of someone else." It's all part of joining the circle of caring, a new role kids come to embrace as they grow. "As we grow so does our capacity to care--for our family, our pets, our neighbors, and our communities, both locally and globally. Building Blocks is about watching our hearts grow as we do," says Kubart, who recently returned from a U.S. Embassy arts exchange tour of Nigeria. "As a society, it's our job to nurture the good in children. We take what we learn at home to the wider community."
The new album is produced by Dominic Fallacaro, who recently signed on to music direct prolific songwriter Max Martin's West End musical, and features guest spots by children's media stars, including Steve Burns ("Blue's Clues"), Carly Ciarrocchi ("Sprout House"), and Genevieve Goings ("Choo Choo Soul"). Building Blocks is filled with Kubart's signature stadium pop sound, culminating with its anthem of inclusivity, "Block Party". Another special highlight is the 90 voices from the Junior Chorus at Woodward Parkway Elementary School (Tim's alma mater) singing "We Are Growing," and the standout track "Field Trip" is an instant 2018 dance party.
Kubart won the Grammy Award for his 2016 album Home. He has worked on numerous family music projects, most notably "Sesame Street." His first Sesame composition "We Can All Be Friends" is the introduction of Julia, the first Muppet with autism. The encouraging "Oopsie-Do!" on Building Blocks is also the title of Tim's acclaimed first picture book, published by HarperCollins earlier this year. Kubart won national notice as host, producer, and writer for the Emmy Award-nominated LIVE show for preschoolers, "Sunny Side Up" on NBC-Universal's Sprout Channel. Today, he co-hosts the "Highlights Hangout," a podcast for Highlights magazine, which brings the trusted brand of puzzles and games to a new medium.
When he's not singing and dancing for kids, Kubart is known the world over as the "Tambourine Guy" from the viral collective and internationally touring Postmodern Jukebox. Sara Niemietz and Drue Davis from PMJ also appear on Building Blocks. This fall, he'll star in a PMJ spinoff project. To get all the Tim Kubart news, visit www.timkubart.com.
Related Articles
View More Music

Stories
More Hot Stories For You