Chicago's Justin Roberts Wins Third GRAMMY Nomination for 'Lemonade'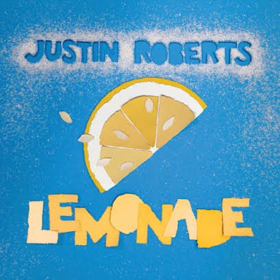 Justin Roberts, a leading independent family music artist, and "hands-down the best songwriter in the genre" (USA Today), received his third GRAMMY Award nomination on November 28 for his album of original songs for families called Lemonade.
Lemonade is Justin's 13th album for families, and it contains 12 new original songs. As Roberts says, "It's the musical equivalent of an impromptu lemonade stand popping up in the summer heat." Featuring dynamic performances by Chicago-based
Robbie Fulks
on lead acoustic guitar and banjo,
Gerald Dowd
on cardboard boxes, paint cans, salt shakers, and other homemade instruments, and John Abbey on upright bass,
Lemonade
is like no other Justin Roberts recording. The lemony fresh sounds are diversely sprinkled with ukulele, piano, cello, fiddle, marimba, and harpsichord, along with lovely harmonies by
Nora O'Connor
(Neko Case, The Decemberists), Anna Jacobson, and others. The album also won critical acclaim, international radio play and awards during the last year from Parents' Choice and NAPPA.
The recording is one of five nominated in the Best Children's Album category; all of the 2018 nominees are listed now at
www.grammy.com
. The 60th GRAMMY Awards will be celebrated at New York's Madison Square Garden on Sunday, January 28. The children's album award winner will be announced that day during the Premiere Ceremony, prior to the national telecast on CBS. Additionally, Justin Roberts will join other nominees for a public concert at
Symphony Space
in New York, on Saturday, January 27, with ticket sales benefiting
Education
Through Music. Details about the concert will be announced in December.
For his hometown
Chicago
fans, Justin Roberts and his Not Ready for Naptime Players will celebrate the nomination with a concert at the
Old Town School of Folk Music
on Sunday, January 14.
Hailed by fellow family music artist Dan Zanes as "super soulful music that speaks to the wide-eyed years of childhood,"
Lemonade
was recorded to sound like a live Justin Roberts concert on a perfect summer day. The engaging sing-along arrangements remain true to the artist's ability to capture moments of what it's like to be a kid in a way that is both poignant and fun. People of any age can find delight and wonder in the sunny, danceable music. Roberts composed several of these songs with a ukulele which he received from Grammy-winning artist Marcy Marxer as a gift.
For two decades, Roberts has been weaving the soundtrack to families' lives, helping kids navigate the adventures and the perils of growing up, and allowing parents to remember their own childhoods. Along with his band, The Not Ready for Naptime Players, Justin has traveled the globe, entertaining kids from Hong Kong to New York, and Miami to Seattle. Justin has performed in front of millions of people on The Today Show, he's been featured on Nick Jr. TV, and his song "Get Me Some Glasses" was on a World Series broadcast. He's received two other GRAMMY nominations, for
Jungle Gym
in 2010 and Recess in 2013. Recent appearances include performances at NYC's New
Victory
Theater and
Symphony
Space, DC's National Geographic Live, LA's Getty Museum, Seattle's Moore Theater, Austin City Limits, and Chicago's Lollapalooza, Printer's Row Festival and Ravinia.
In 2014, Roberts wrote his first musical, based on "Hansel & Gretel," produced a cast recording, and published his first picture book, The Smallest Girl in the Smallest Grade (illustrated by Christian Robinson), published by Putnam. In 2015, Roberts created a concert/theatrical experience entitled "The Mysterious Hat," which debuted off-Broadway at the New
Victory
Theater in New York City. In 2017, Valley
Performing Arts Center
in Northridge,
California
remounted "Hansel and Gretel" for a national tour, and Putnam published his second book, The Great Henry Hopendower. Visit
justinrobertsmusic.com
for the latest updates.