Award Winning Saxophonist Evan Harris to Play Greenwich House Music School on June 30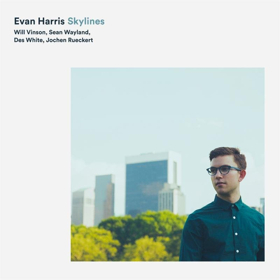 Debut album Skylines from New York-based Australian saxophonist Evan Harris documents a deeply personal journey by a young saxophonist at the top of his game breaking into the toughest music scene in the world, New York City.
Through architectural compositions of clarity and mystery, Skylines depicts unique portraits and panoramas of New York and Sydney. The haunting yet uplifting melodies and incredible improvisations from this cast of truly international heavyweights give the listener an insight into the exciting future of Australian Jazz by a dynamic musician making waves in NYC.
Skylines was shortlisted for three 2018 Australian Jazz Bell Awards: for Best Australian Instrumental Jazz Album, Best Produced Album and won Evan the title Young Australian Jazz Artist of the Year.

Evan Harris - tenor saxophone, compositions
Will Vinson - alto saxophone
Sean Wayland - piano
Des White - double bass
Jochen Rueckert - drums
Greenwich House Music School - June 30
46 Barrow St., Renee Weilier Concert Hall
Manhattan, NYC
Sets at 7.00 PM and 8.30 PM
More info: https://www.eventbee.com/v/evanharris#/tickets
"With a love for jazz and improv coming directly from his gut, he leads a smart crew here after capably proving himself rubbing elbows with a load of modern giants. He's not changing the world but he is making it a much prettier place to plug into. Check it out." - Chris Spector - Midwest Record
"This album has a lot to absorb. On the surface the album is rather cinematic in feel and takes the listener through a number of moods however the deeper you delve the more complex the music becomes. This is the sign of a great album that will appeal to a wide audience. Skylines is a strong release from a musician that we will be no doubt hearing a great deal more from in the coming years. Highly recommended."
- Andrew Read - Jazz in Europe
"To say Skylines is an impressive debut - whilst being true - can also sound patronising, suggesting Harris has a way to go. Don't we all. But he is leaps ahead already and his promise is as exciting and unpredictable as the city he celebrates on Skylines." - John Hardaker - Words About Music
"This debut recording from the New York based Australian saxophonist displays his exceptional prowess as a tenor player, composer, arranger and band leader."
- Barry O'Sullivan - jazzandbeyond.com.au
"Evan is one of the most talented young musicians I've heard in a long time... I'm sure that we'll be hearing a lot more from him in the near future."
- Miguel Zenon - musician
Related Articles View More Music

Stories