Amazon Studios Releases Theme Song to CLICK CLICK MOO Holiday Special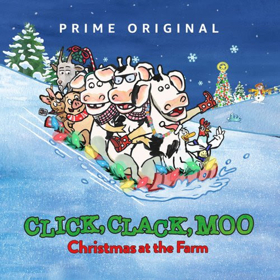 Today, November 28, Amazon Studios announces the release of Click Clack Moo: Christmas at the Farm, a new holiday special inspired by the acclaimed children's book series "Click, Clack, Moo" from New York Times bestselling duo Doreen Cronin and Betsy Lewin. Okkervil River have contributed the theme song titled "What Friends Do" to the Amazon Prime Video Original available exclusively via Prime Music and Amazon Music Unlimited.
Steam Okkervil River's "What
Friends
Do" here:
"When I was preparing to write the theme for 'Click Clack Moo' I listened intently and repeatedly to my favorite kids' songs by writers like Joe Raposo and Harry Nilsson. There's something about writing songs tailor-made for kids, I noticed, that brings out something really tender and urgent in adults," explains Okkervil River's Will Sheff. "You start thinking a lot about what the one simple and sincere message you'd like to pass on to a kid might be. In the case of 'Click Clack Moo,' I had to work with already existing material, so my job was more to mine what was already there than it was to make up something extraneous. The original 'Click Clack Moo' book, by Doreen Cronin, is about a bunch of farm animals who learn that by banding together they can get the farmer to provide them with better living conditions. So I thought I'd write a song that reflected that message - that if you stand together with your friends and if you stand up for your friends you'll never feel alone and you'll be able to get great things on behalf of everybody, stuff that would never be possible to do all yourself."
The holiday special is written by
Will McRobb
(The Adventures of Pete & Pete), directed by Jennifer Oxley, executive produced by Cronin, Lewin, McRobb,
Oxley
(Peg + Cat), and
Billy Aronson
(Peg + Cat), and features voice talent from
Rachel Bloom
(Crazy Ex-Girlfriend),
Pete Davidson
(Saturday Night Live) and
Patton Oswalt
(Ratatouille). It's Christmas time and the farm animals have a problem: how to buy Farmer Brown the present of his dreams - a Tumbletron 300 clothes dryer. It's a race against time for them, and for Duck who has his own problem - upping his "nice" numbers for Santa to get off the "naughty" list.
For a limited time, non-Prime members as well as Prime members who haven't yet tried Amazon Music Unlimited, can get three months of the full catalog on-demand service with access to tens of millions of songs, for just $0.99. To learn more, visit:
www.amazon.com/unlimited
.
Related Articles
View More Music

Stories
More Hot Stories For You