Aloe Blacc Announces Christmas Album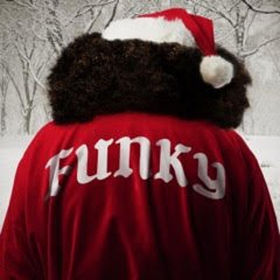 Grammy-nominated singer/songwriter Aloe Blacc will release his first holiday album, CHRISTMAS FUNK November 9 (via Aloe Blacc Recordings, Inc.) The debut single "I Got Your Christmas Right Here" will be available November 2 at all digital retailers.
Christmas Funk features eight original songs written by Blacc, and two classic cover songs by Wham! and Mariah Carey.
"Christmas Funk is the type of holiday album I have been waiting to hear for a long time," says Aloe. "These new song concepts and stories are my interpretation of the time I spend with family and friends. I've been a fan of Motown and soulful Christmas songs since I was a young child. As much as I love Sinatra and Nat King Cole, I feel like the holiday spirit needed a funky revival. The eight new original songs are a perfect complement to the extra funky versions of two undeniable holiday classics, 'All I Want For Christmas Is You,' and 'Last Christmas.' I chose to cover these songs because the world deserves to feel the funk."
CHRISTMAS FUNK Track Listing:
1. Tell Your Mama
2. I Got Your Christmas Right Here
3. All I Want For Christmas
4. I Can't Wait For Christmas
5. The Mrs. Saved Christmas
6. Last Christmas
7. All I Have Is Love
8. At Christmas
9. Funky Ass Christmas
10. Love Come Home
With "Wake Me Up"-the mega-hit Aloe Blacc sang and co-wrote for Swedish DJ Avicii and saw climb to #1 in over 100 countries across the globe- the Grammy nominated singer/songwriter proved he has an irresistible power to capture the complexities of human emotion. Blacc's third solo album Lift Your Spirit (XIX Recordings/Interscope Records), pushed further into a folk/soul/pop fusion that's both undeniably joyful and eye-opening in message. One of his main ambitions is to use his popularity to affect social change while continuing to infuse his music with a mindful positivity. "What it comes down to in my songwriting is trying to tell the story of the underdog and all the obstacles they have to overcome in this life," says Blacc.