MorDance Celebrates The Centennial Of Leonard Bernstein This Anniversary Season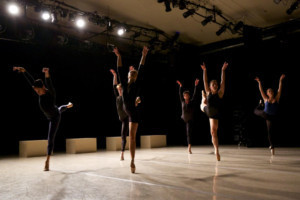 Mordance, in its mission to create modern, relevant movement that maintains the integrity of classical ballet, celebrates their fifth anniversary season this April at Aaron Davis Hall, April 27-28. Premiering two new works on an ensemble of nine, the season will honor the centennial celebration of the great Leonard Bernstein with a new work to a chilling score along side Arvo Pärt's Stabat Mater, inspired by a 13th-century hymn about the crucifixion of Christ. The company will also resurrect a work from their inaugural 2013 season.
Depths Entangled, originally set on 2 men and 5 women, will be reimagined for 4 men and 5 women this season, in an ongoing conversation of the collection of relationships a person builds in a lifetime. Over time, they begin to intertwine and overlap with one another, influencing feelings, thought and development from the obvious romantic or platonic connections, student, teacher, neighbor and stranger. Additionally, in creation for more than one year, the large and weighted score of Arvo Pärt's Stabat Mater explores Mary's mourning and sharing of sorrow following Christ's crucifixion. With focused lighting and raised structures, the illusion of silhouettes and shadows will create a vision of dancers floating and being supported by others, finding moments of rebirth and joy amidst the deep sense of grieving that the music portrays. Lastly, On The Waterfront will pay tribute to the great Leonard Bernstein, who would have been 100 years old this summer. The score, a chillingly beautiful concert suite that was composed for the 1954 film with the same title, is stark, yet lively and tender. In composing for film, Bernstein expressed his frustration in the manipulation and deletion of various parts according to scene and story, exemplifying two art forms hindering the expression of one another. In contrast, McEwen highlights the symbiotic relationship between dance and music, giving On The Waterfront a new wholeness that Bernstein craved.
"When I started this company five years ago I collected friends and dancers in a studio to begin to breathe life into my on- paper concepts, and explore some of the music I was connecting to" explains Morgan McEwen, Artistic Director of MorDance. In five years, taking the stage with our largest collection of artists yet, I have been given freedoms and opportunities I couldn't have ever imagined. A strong commitment to community outreach has given purpose to our mission, generous grants have given us space and time to explore stories and ideas, and audiences have shown us tremendous support and respect in allowing us to push boundaries and challenge old standards. To stand among a roster of female leaders in a male-dominated industry leaves me humbled and hopeful for all that will come after us."
PERFORMANCE INFORMATION
Season Five will take place on Friday, April 27 and Saturday, April 28, 2018, at 8:00 p.m. at Aaron Davis Hall. Ticket prices are $40, $30, and $20 for students and seniors, available online at http://bit.ly/Mordance5.
Aaron Davis Hall is located on the campus of The City College of New York, at West 135th Street and Convent Avenue (129 Convent Avenue). Convent Avenue is one block east of Amsterdam Avenue and the extension of Morningside Avenue beginning at 127th Street. Aaron Davis Hall is accessible by the 1, B, C, D trains.
ABOUT MORDANCE
Morgan McEwen, ballerina turned artistic director, launched MorDance in January of 2013. This young company, with dancers from some of the world's most prestigious companies, has playfully leaped to the edge of the classical ballet world. MorDance explores athleticism as part of its aim to modernize and innovate, while honoring the grace and beauty of classical ballet. MorDance premiered at Manhattan Movement and Arts center on May 3rd, 2013. The company has been invited to perform at numerous festivals, including Dance at Socrates, Counterpointe Project, and Sounds of the City. In 2014, MorDance helped The Sheen Center open their doors by being the first company to perform in their new black box theater. The company was then named the Sheen Center's 2016 resident dance company. MorDance has also been granted space residencies at The Silo at Kirkland Farm and Mana Contemporary. Artistic Director, Morgan McEwen, has been commissioned as a choreographer to create new works on Eglevsky Ballet and Columbia Ballet Collaborative, as well as to choreograph La Traviata for the New York Opera Exchange.
MorDance Season 5 is made possible in part with public funds from Creative Engagement / Creative Learning, supported by the New York City Department of Cultural Affairs in partnership with the City Council and the New York State Council on the Arts with the support of Governor Andrew Cuomo and administered by Lower Manhattan Cultural Council. LMCC.net
Related Articles View More Dance

Stories
More Hot Stories For You