Joffrey Ballet Remounts Yuri Possokhov's Blockbuster ANNA KARENINA
Performances run from February 15-26, 2023.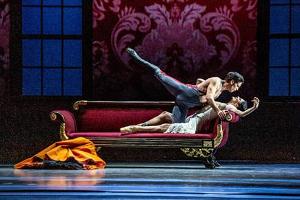 This winter, The Joffrey Ballet remounts Yuri Possokhov's blockbuster Anna Karenina for the first time since its crowd-pleasing world premiere in 2019. Based on the novel by Leo Tolstoy, Possokhov's immersive adaptation-winner of the 2019 "Oscars of Dance" Benois de la Danse International Prize for Best Choreography-features an original composition by award-winning composer Ilya Demutsky, costumes and sets by Emmy Award-winning designer Tom Pye, and lighting by famed designer David Finn. Anna Karenina will be presented at the historic Lyric Opera House, 20 North Upper Wacker Drive in downtown Chicago, in ten performances only, from February 15-26, 2023.
Love is all-consuming for the beautiful but married Anna, who in the pursuit of passion, finds herself caught in a life-changing affair with the dashing Count Vronsky. Set in the late 19th century, Tolstoy's classic shows the triumph of romance, family, and faith against a backdrop of fraught political and social transformation.
With countless adaptations across ballet, theatre, opera, and film, Anna Karenina is often considered the earliest example of modernist literature and one of the greatest works of literature in history. Possokhov's immersive adaptation updates the timeless story for contemporary audiences with its captivating choreography, stunning costume design, and cinematic storytelling that unravels the profound power, passion, and desire that shapes the 19th century novel.
The Mary B. Galvin Artistic Director of The Joffrey Ballet Ashley Wheater MBE says, "Anna Karenina is a powerful universal love story animated by the highs and lows of human emotion. I am especially grateful to partner again with esteemed choreographer Yuri Possokhov to remount a multi-dimensional production that touched audiences across Chicago and beyond with its immersive artistry."
The Joffrey Ballet President and CEO Greg Cameron adds, "The 2022-23 season represents the breadth of Joffrey's artistry, from the original work presented by Chanel DaSilva in Beyond Borders, to the modern masterpiece that is Christopher Wheeldon's The Nutcracker, to the remount of Yuri Possokhov's blockbuster Anna Karenina--an all-time classic set to an original score. Following a record-breaking return to pre-pandemic attendance with The Nutcracker, we look forward to welcoming audiences back to the iconic Lyric Opera House this winter. Not only will guests experience Anna Karenina's story that has transcended the ages; they will witness the transformative power and innovation on which the Joffrey was founded."
Known for his visceral and expressive style, Possokhov has created groundbreaking new works around the globe. A frequent guest artist with The Joffrey Ballet, Possokhov is internationally recognized for transforming iconic literature into inventive, emotionally driven story ballets. Possokhov choreographed the world premiere adaptation of Anna Karenina for The Joffrey Ballet in 2019 to critical acclaim. In addition to Anna Karenina, Possokhov's collaborations with The Joffrey Ballet include Bells (2014), The Miraculous Mandarin (2017), and Don Quixote (2011, 2022).
Anna Karenina features live music performed by the Lyric Opera Orchestra, conducted by Scott Speck, Music Director of The Joffrey Ballet.
Special thanks to Presenting and Commissioning Sponsor Mr. and Mrs. Joel V. Williamson, Major and Commissioning Sponsor Mary Jo and Doug Basler, and Major Sponsor The Women's Board of The Joffrey Ballet.
The Joffrey Ballet performs Anna Karenina from Wednesday, February 15 to Sunday, February 26, 2023, at the Lyric Opera House, 20 N. Upper Wacker Drive. The full schedule is as follows: Wednesday, February 15 at 7:30PM; Friday, February 17 at 7:30PM; Saturday, February 18 at 2:00PM and 7:30 PM; Sunday, February 19 at 2:00 PM; Thursday, February 23 at 7:30PM; Friday, February 24 at 7:30PM; Saturday, February 25 at 2:00PM and 7:30PM; and Sunday, February 26 at 2:00PM.
Single tickets start at $36 and are available for purchase at Lyric Opera Box Office located at 20 N. Upper Wacker Dr. by telephone at 312.386.8905, or online at joffrey.org.