BWW Review: PASSIONATE, ENTERTAINING AND FUN. DON QUIXOTE BY BOLSHOI BALLET at Cinema
Watching Bolshoi Ballet's Don Quixote is like watching Usain Bolt running for his gold medal in an Olympic game, or Lewis Hamilton winning Formula One.
Of the cast assembled for the Fathom Event release, in America's nationwide cinemas, Ekaterina Krysanova (Kitri) not only shined as the brightest star, but also set a record for high-velocity and high-quality fouettés. If the leading international ballet competitions, like the ones held in Moscow, Varna and Perm, performed a data research study, then we might have actual statistics regarding which ballerina has the fastest and best fouettés. I believe Ekaterina Krysanova would be at the top of the list.
Although it was not a live performance, the fire of energy pierced through the screen and reached the cinema audience. Her leaps with the kicks to the back of her head were gracefully exciting, and her chainé turns were executed at a breakneck pace. Principal dancers like her are one of the reasons why people expect the best from Bolshoi Ballet.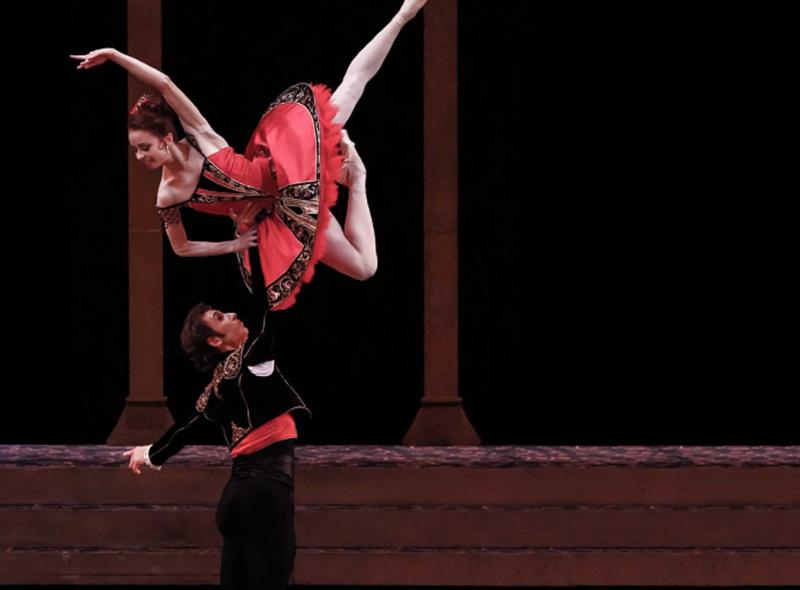 She was the most stunning flower standing in a felicitous garden, but not the only one who shined. Anna Tikhomirova (A street dancer), Kristina Karasyova (Mercedes) and Olga Smirnova (The Queen of the Dryads), each completed their fantastic dances in accordance with their character. For example, Olga Smirnova's performance was so captivating that you couldn't tell if it was the choreography or her fine dancing and acting that had made her such an adorable spirit.
Observers may also find it hard to let go of the images from the mysterious and haughty Spanish Dance in Act II, and the melodramatic Gypsy Dance in Act III - a comparison of white and crimson, tranquilizing and electrical, but both exotic and erotic.
Beyond the high quality of the principal dancers and soloists, the stage design and costume design were wonderfully calculated. The colors were rich, and each dancer in the corps de ballet was well-engaged with their character, which directly led to an outstanding outcome: every snapshot taken, whether mental or literal, creates stills having the look of an eighteenth century, grand classical oil painting, expressing vivid character motion. All of the above points to a fine job by Alexei Fadeyechev and his design team.
The leading male dancer, Semyon Chudin (Basilio), delivered equally high-quality technique and I was pleased by his lean and classical moves. However, I can't help but compare him to a former Bolshoi Ballet principal dancer, Ivan Vasiliev. In terms of character vibe, Semyon Chudin didn't deliver the playfulness and witticism. His acting seemed detached and emotionless.
A red flower can only be more vivid when fresh green leaves are around. A flock of white doves brings more peaceful emotion than a single one. In this same manner, every member of the supporting cast played a critical role in bringing the show to life.
The dancer portraying the character of Don Quixote could not have been more convincing either. The facial expressions and body language, corresponding to the story development, were so natural and fitting that without his wonderful performance the show would be a boat without an anchor.
I can't wait to see a live show by Bolshoi Ballet.
PHOTO CREDIT: BOLSHOI BALLET
Related Articles View More Dance

Stories