Qianqian Xing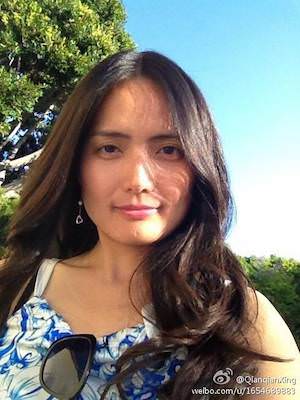 Qianqian writes in both Chinese and English and works efficiently in multi-cultural environments. Since 2004, she has been working with international visual artists, designers and architects, and her scope expanded to contemporary dancers in 2012. She has created cultural exchange events and published numerous articles about the creative works of the various artists mentioned above. She was a senior editor for VISION magazine while living in Beijing, and she is now an independent writer living in Los Angeles.

During the last three years, she has had close interaction, affording her detailed observations of dancers, and has been writing about them for magazines and other media. Her passion for critiquing, writing and publishing artistic works stems from her in depth humanities and social studies. She believes that a professional critic must be rooted in socially developed context, local interaction and a healthy sense of the artists' background. In short, culture is the root of art.


MOST POPULAR ARTICLES
LAST 30 DAYS
LAST 365 DAYS
BWW Review: THE ROYAL BALLET'S MAYERLING, AN EPIC THEATRICAL EXPERIENCE at LA Music Center

July 11, 2019

Alluring, sexy, their love to death stimulates their sexual desire to each other - a perfect volatile mix of tantalizing beauty and formidable athleticism. The Mayerling by England's Royal Ballet is a MUST-SEE!
---
BWW Interview: Xiaoxiao Cao, A CHINESE BALLERINA IN THE PHANTOM OF THE OPERA at Majestic Theatre

March 12, 2019

Xiaoxiao Cao, a twenty-nine old ballerina born, raised and trained in China, made her Broadway debut in February 2019 as a member of Phantom's dance corps.
---
BWW Review: MAYBE at The Odyssey Theatre Ensemble, January 6, 2019

February 18, 2019

How artists' feel about the city is such an exciting topic that part of LA's legendary fame relies on their output and productivity, as manifested through movies, dramas, music, writings, and dance.
---
BWW INTERVIEW: MARINDA DAVIS, A DANCE TEACHER, MULTIPLE FATAL ILLNESS FIGHTER, AND CHOREOGRAPHER at NBC Dancing With The Stars

December 31, 2018

Having been engaged in battling autoimmune diseases since childhood, Marinda Davis, now 34 years old, doesn't know how long the rest of her life will last, but proclaims, 'My life has been perfect for my art.'
---
BWW Review: HILARIOUS AND POETIC, A HOLIDAY TRIBUTE TO CHILDREN: THE NUTCRACKER, BY AMERICAN BALLET THEATRE at Segerstrom Center For The Arts

December 22, 2018

The Nutcracker choreographed by Alexei Ratmansky begins with a refreshingly unusual holiday carnival mood for children, and ends with a strongly projected glimpse in to a positive future. It is not just a journey in to the dream of a little girl, but a dream held by adults as well.
---
BWW Review: A FUTURISTIC EXPERIMENT. AUTOBIOGRAPHY BY COMPANY WAYNE MCGREGOR  At The LA Music Center Ahmanson Theatre

December 9, 2018

I strongly believe that Wayne McGregor's trailblazing innovations in performance have radically redefined dance in the modern era, and will help mark his name in history as another master.
---
BWW Review: PASSIONATE, ENTERTAINING AND FUN. DON QUIXOTE BY BOLSHOI BALLET at Cinema

December 6, 2018

Watching Bolshoi Ballet's Don Quixote is like watching Usain Bolt running for his gold medal in an Olympic game, or Lewis Hamilton winning Formula One.
---
BWW Review: A PERFUNCTORY DON QUIXOTE BY MIKHAILOVSKY BALLET at Segerstrom Center For The Art

December 4, 2018

This version of Don Quixote may be good enough for people who casually hop around the realm of ballet and other performing arts, but it is not preferred by classical ballet lovers.
---
BWW Review: INSIDER AND OUTSIDER—HEIDI DUCKLER DANCE THEATRE at The Ford Theatres

November 5, 2018

"We have resources. Things can be taken away from us, but certain things can NOT be taken away from us: the ability to love, the ability to imagine, the ability to build." 
---
BWW Review: BALLET BEING TRENDY. STARDUST AND BACH 25 BY COMPLEXIONS CONTEMPORARY BALLET at Bovard Auditorium USC

October 11, 2018

That is the freedom that I spoke about earlier. Never let the body restrict you. Human bodies have the potential to do anything, if we develop them correctly. Even the most inhuman pointe technique can be something extraordinarily modern. The time they spent on pointe, and the motions they created while en pointe were much longer and more challenging than those typically performed in classical ballet.
---
BWW Interview: ZJ Fang, the Chinese Soloist In ABT: How Injury Gave Me A Second Chance In Ballet at Lincoln Center

September 25, 2018

Zhong-Jing Fang was promoted to soloist at the American Ballet Theatre in 2018, the first Chinese ballerina to be promoted to soloist since Yan Chen in 1993. Almost ten years ago, she tore her posterior tibial tendon in her right foot during a rehearsal. Doctors told her that the chances of her returning to the stage were extremely slim.
---
BWW Review: Natalia Osipova as ISADORA at Segerstrom Center For The Arts

August 19, 2018

It was an awkward show; a hodgepodge of funky contemporary dance, Broadway musical-like performances, and classic ballet performed in a clowning manner, all topped off with some of Isadora Duncan's typical dance movements.
---
BWW Review: BOLSHOI BALLET'S SWAN LAKE at Movie Theatre

August 6, 2018

Unlike nowadays, with Swan Lake considered the most prestigious icon of classic masterpieces, both in dance and music, the first year performance in Bolshoi Theatre was not favored by critics or audiences.
---
BWW Review: Was ABT's La Bayadere Worth Studying Three Times?

July 20, 2018

How many people would go to the theater to watch American Ballet Theatre's La Bayadere three time within 45 days? Either they are dance professionals themselves, someone with a lot of time on their hands, or perhaps they're just crazy? I happen to be the crazy one.
---