Click Here for More Articles on MODERN
BWW Review: Captivating Audiences Once Again with GARTH FAGAN DANCE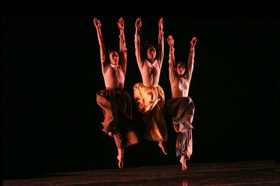 October 30, 2018 kicked of the return of Garth Fagan Dance to New York City. Their season at The Joyce Theater was full of new work and old revivals. This internationally-acclaimed company continues to use dance as a platform to honor and pay tribute to the African diaspora through the pioneering vision of Mr. Fagan and contemporary dance.
On opening night, the program began with the piece Prelude "Discipline is Freedom," with original choreography by Mr. Fagan in 1981 that was later revised in 1983. This is a clear example of the richness of Mr. Fagan's unique style, combining elements of modern dance in the Horton technique and Afro-Caribbean dance. The moves were clean and crisp, with leg extensions and elongations of the spine. It was just wonderful to watch. Next was the revival of In Memoriam. The dance was originally dedicated to the victims and survivors of the attacks on September 11, 2001, and now paying tribute to the recent losses of the many influential lives we have lost this year including Aretha Franklin, John McCain, Arthur Mitchell and Paul Taylor. Such a beautiful dance! The choreography consists of many long extensions of the legs [SF1] and suspended movements. It is also very emotional. You can feel the love, comfort and heavy feelings the piece brings to the stage.
The program also featured two world premieres. The first was Distant Kin by company veteran Norwood Pennewell. The dance was so graceful and just enjoyable to watch. It is so powerful to see the dancers perform. The second premiere entitled The North Star by Mr. Fagan is a celebration of the life of Frederick Douglass. The first section had the voiceover of Psalm 137- Douglass' favorite psalm. Next was about slavery. The movements were very bound and mostly enclosed showing the trapped feeling one may have felt being a slave. The third section showed the life of a young and followed by an older and mature[SF1] Frederick Douglass. Next featured the influence of the women in his life- his grandmother Betsy Bailey, his daughter Rosetta Douglass, his first wife Anna Murray Douglass, and his second wife Helen Pitts Douglass. The final section was a celebration of his life featuring a wonderful state of Frederick Douglass with voiceover highlighting his many accomplishments.
The evening concluded with the audience favorite, From Before, by Mr. Fagan. I've seen this piece performed many times, but this time was different. The dancers movements were easily transitioned from smooth to quick and sharp. The energy was so contagious, you could see many members of the audiences moving and grooving along Mr. Fagan is a truly amazing choreographer whose work will live on for generations to come! He absolutely has a way of captivating audiences from across the globe.
For more information about Garth Fagan, the company, the school, and community outreach initiatives, please visit their website at www.garthfagandance.org.
GF North Star- Dancers (l-r): Adriene B. Hodge, Rishell Maxwell, Anna Lee
Photo Credit: Julie Lemberger