BWW Dance Interview: Daniel Ulbricht Discusses 'Dance Against Cancer.'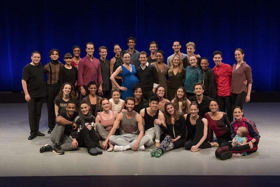 Co-producers and longtime friends Erin Fogarty and Daniel Ulbricht conceived Dance Against Cancer in 2010 to unite the dance community around the fight against cancer. They both have close ties to the cause as Fogarty lost her father in 2011 after a seven-year battle with colon cancer and Ulbricht lost his mother in 2015 after a battle with uterine cancer. With so many of their close friends and family sharing stories of their own relation to the disease, the desire to do something grew into what is now a gala benefit for the work that the American Cancer Society does through research initiatives as well as patient and family service programs. Since its inauguration, Dance Against Cancer has raised over $1.1 million in support of the American Cancer Society. More information can be found at dacny.org.
Broadwayworld Dance recently interviewed Mr. Ulbricht by e-mail.
Q. Tell me about Dance Against Cancer?
A. Dance Against Cancer (DAC) is truly a one-of-a-kind evening. Now in its 8th year, DAC is excited to bring this evening to even more people. Dance Against Cancer features the finest in the dance world from New York and beyond, with dancers from New York City Ballet, American Ballet Theatre, Alvin Ailey, Paul Taylor Dance Company, Noche Flamenca, and so many more. This year we begin in our new home at Alice Tully Hall in Lincoln Center. Although we are in a new space, the generosity, talent and atmosphere that this event creates has not changed. Since its inception, Dance Against Cancer has raised over $1.1 million for the American Cancer Society. We couldn't be prouder to see how this event can heal, support, and create for so many touched by this disease.
Q. Why did you decide to create this organization?
A. Erin Fogarty and I started this event 7 years ago. Both of us have a personal connection to cancer; Erin's father and my mother were both catalysts to start this event. Both Erin and I have been fortunate to connect with a large part of the dance community over our careers, which allowed us to invite and curate a show with awesome talent but, more importantly, genuine and generous dancers. Dance has enriched our lives so much that it felt natural to use dance to bring people together for such an important cause. From there we have been able to include over 150 dancers from over 35 different companies and schools. Erin and I really noticed how, despite the company affiliations that exist in the dance world, this evening brought together a community of artists that shared a common goal: to dance for a cure.
Q. Have you lost anyone to cancer?
A. Yes, I lost my mother to cancer on October 6th, 2015. She was able to attend out first DAC in 2011. Erin's father passed away the following year.
Q. Besides DAC, are you involved with any other cancer organizations?
A. DAC is my primary interest in the cancer organizations. The vast amount of work the American Cancer Society does is amazing. For other organizations, I am always happy to perform and donate what I can! As an artist, I feel there are different ways one can give back, and I encourage everyone to do so at some point in their career. Dancing for a cause is different than dancing for a vocation; I find my performances are even more gratifying, and it reminds me that my gift of dance has the ability to do good in the world.
Q. Who do you have lined up for this year's gala?
A. This year includes a lineup of amazing artists. In addition to New York City Ballet, American Ballet Theatre, Ballet X, Jacob Jonas the Company, and more, we also want Dance Against Cancer to be a place where new works are made. This year includes a world premiere by Broadway's Josh Bergasse and Alvin Ailey's Jamar Roberts. Creating opportunities for younger generations, we are also having students from LaGuardia High School perform at the event. There are 14 pieces that make up this special evening. The wonderful challenge each year for Erin and me is to create the arc of the performance - we usually go through about five drafts before we settle on the order.
Q. When the audience leaves after the performance, what should they be feeling?
A. We want to audience to leave inspired. Each audience member is there for a different reason - maybe some were dancers, some are there to honor those who have lost a loved one, others have survived cancer or are currently battling cancer, and there are even young students who get to see not only amazing dancers but great people who dance! Everyone who walks in is touched by this disease and Dance Against Cancer creates an escape that we can share together in this fast paced world. For an hour and a half, an entire theatre feels like an intimate experience, not a show.
Q. Where do you see the organization going in the future?
A. My hope is that this disease will go away sooner rather than later. That being said, as long as there is a fight, Dance Against Cancer will continue to inspire, heal and create through this event. Erin and I, along with our amazing team at the American Cancer Society, are so grateful for the love, attendance, and support of this event. It is the only way we can find a cure: TOGETHER!
Photograph: Christopher Duggan, 2017 DAC participants.