BAM to Present Big Dance Theater's Witty, Samuel Pepys-Inspired Work '17c'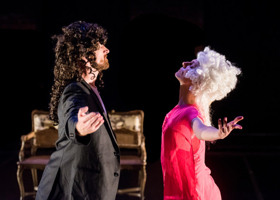 Big Dance Theater returns to BAM with the New York premiere of 17c, a witty ensemble work inspired by the diaries of Samuel Pepys, running November 14-18, 2017.
Built around the 17th-century writings of Samuel Pepys, Big Dance Theater's witty new ensemble work considers the diarist as a startling precursor to our own social media culture. The dance-theater work also uses his marriage to the long-suffering Bess as a lens through which to view the erasure of women's voices from his obsessively annotated life.
A band of five Big Dance veterans spanning all three decades of the ensemble's history- Elizabeth DeMent, Cynthia Hopkins, Paul Lazar, Aaron Mattocks, and Kourtney Rutherford-bring to life aesthetic and textual references ranging from glam rock to 17th-century British radical feminist playwright Margaret Cavendish to the wonkishly comprehensive contemporary blog www.pepysdiary.com.
As ever, Big Dance Theater continues what co-founder Annie-B Parson calls a "protracted, aesthetic, alchemical conversation with dance and theater simultaneously" while showcasing some of New York's most multifaceted and engaging performers and the wry and incisive intelligence that has defined its trailblazing oeuvre for more than 25 years.
To view video trailer and "Making 17c," visit BAM.org/17c.
---
IF YOU GO:
17c
Big Dance Theater
Conceived and choreographed by Annie-B Parson
Directed by Annie-B Parson and Paul Lazar
Sound by Tei Blow
Set design by Joanne Howard
Lighting design by Joe Levasseur
Costume design by Oana Botez
Video design by Jeff Larson
BAM Harvey Theater (651 Fulton St)
Nov 14-18 at 7:30pm
Tickets start at $30
Master Class: Big Dance Theater with Paul Lazar
Co-presented by BAM and Mark Morris Dance Group
Nov 18 at 1:30pm, Mark Morris Dance Center (3 Lafayette Ave)
Price: $25
For theater and dance practitioners
Visit BAM.org/master-classes for more information and to register
---
Founded in 1991, Big Dance Theater is known for its adventurous use of music, text, dance, and visual design to expand and refract literary texts, weaving disparate sources and forms into seamless theatrical wholes. Under the artistic direction of Annie-B Parson and Paul Lazar, the company has created more than 20 works-each piece developed over months of collaboration with its associate artists, a longstanding, ever-evolving group of actors, dancers, composers, and designers. In 2000, the company received an Obie Award for its "passionate practice of the most implausible choreographic and literary concoctions." Directors Lazar and Parson were honored in 2002 with a Bessie Award for their "boldly arranged marriage of dance and theater," and Comme Toujours, Here I Stand received a Bessie Award in 2010 for Outstanding Production. The company also received the inaugural Jacob's Pillow Dance Award in 2007. Parson was recently awarded a 2014 Doris Duke Artist Award as well as the 2014 Foundation for Contemporary Art Award. Big Dance Theater has been presented in both dance and theater venues nationally and abroad, in Italy, France, Belgium, the Netherlands, Germany, and Georgia. Big Dance Theater was last at BAM with Alan Smithee Directed this Play: Triple Feature (2014 Next Wave).
Photo Credit: Ian Douglas
Related Articles
View More Dance

Stories
More Hot Stories For You