Parthenia Viol Consort Presents COME LIFE, COME DEATH, I CARE NOT - A Concert With Les Canards Chantants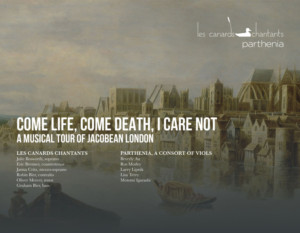 Parthenia, New York's premiere viol consort, will be in concert Saturday, April 13 at 8:00 PM, presenting Come Life, Come Death, I Care Not - A Concert with Les Canards Chantants vocal ensemble at Corpus Christi Church, 529 West 121st Street in Manhattan.
Madrigalists Les Canards Chantants join Parthenia, and guest Motomi Igarashi, for a presentation of Michael East's Third Book of Madrigals of 1610. The concert will also include Anthems, madrigals, Neapolitans and pastorals for voices and viols, and a cycle of eight remarkable viol fantasias.
Tickets are $25 general admission, available in advance at http://www.gemsny.org/events/parthenia. For more information, call GEMS NY at 212-866-0468.
Founded in England in 2011, Les Canards Chantants are now based in Philadelphia, where they are Ensemble in Residence at Glencairn Museum, and present concerts of renaissance polyphony at home and abroad. Les Canards Chantants has toured in the UK, Germany, and China, where they headlined the inaugural festival of Western Early Music at the Beijing Central Conservatory of Music in Beijing alongside Red Priest in 2016. They have collaborated with Piffaro, ACRONYM, lutenist Jacob Heringman, lutenist Charles Weaver, and lute-viol duo Pellingman's Saraband. Visit them at https://lescanardschantants.com/.
Parthenia is a quartet of viols which animates ancient and contemporary. Parthenia is presented in concerts and festivals across America including Bargemusic, Music Before 1800, Maverick Concerts, The Rockport Chamber Music Festival, The Metropolitan Museum of Art, The Miller Theatre and the Yale Center for British Art, and in Europe at the Regensburg Tage Alter Musik. The ensemble produces its own concert series in NYC, collaborating regularly with the world's foremost early music specialists including Piffaro, Julianne Baird, Paul O'Dette, Blue Heron and ARTEK. Parthenia actively commissions and premieres works by today's composers including Eleonor Sandresky, Richard Einhorn, Phil Kline, Frances White, Max Lifchitz, Will Ayton, Nicholas Patterson and Kristin Norderval. Parthenia's latest CD Nothing Proved, on the MSR Classics label, features music by Hildegard von Bingen, Frances White, Kristin Norderval, and Tawnie Olson. They are represented by Shirley Hunt, GEMS Live! Director of Booking and Artist Representation.
Parthenia is Beverly Au, Lawrence Lipnik, Rosamund Morley and Lisa Terry. Visit them at http://www.parthenia.org. They are the Early Music Ensemble in Residence at Stern College for Women.
Parthenia's concert season is made possible by the New York State Council on the Arts, with the support of Governor Andrew Cuomo and the New York State Legislature. Parthenia is a sponsored organization of the New York Foundation for the Arts, and is a member of Early Music America and Chamber Music America.
Related Articles View More Classical Music

Stories
More Hot Stories For You