Internationally Renowned Pianist Debuts With The Sydney Symphony Orchestra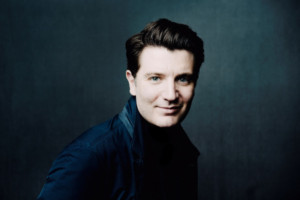 In his Sydney Symphony Orchestra debut, internationally-renowned pianist Alessio Bax will feature in three separate programs over 21, 22 and 25 March at the City Recital Hall, Angel Place, Sydney and in regional New South Wales at The Art House, Wyong.
Bax will perform Mozart's Piano Concerto No.27 in B flat, K595 at the City Recital Hall, Angel Place (Thursday, 21 March) and at The Art House, Wyong (Friday, 22 March) with Concertmaster Andrew Haveron as violin-director. Following the performance in regional New South Wales, Bax will return to the City Recital Hall, Angel Place for a recital featuring works by Bach, Rachmaninoff, Dallapiccola and Liszt (Monday, 25 March).
Appearing with more than 100 orchestras over his career, including the London and Royal Philharmonic Orchestras, the acclaimed pianist is excited to perform with Australia's premier orchestra.
"I very much look forward to making my debut with the wonderful Sydney Symphony Orchestra this March," said Bax.
"It will be the first engagement of an extended tour of Australia and New Zealand and I couldn't imagine a better start! This ensemble's reputation and illustrious history places it among the world's best. I am particularly excited to be able to work closely with these formidable musicians and lead from the keyboard, in what is perhaps Mozart's most transcendent piano concerto. KV 595 was written just 11 months before Mozart's death, and after a three-year-long hiatus in the genre. Instead of writing a powerfully dramatic work, Mozart writes a heavenly transcendent one. He is no longer concerned with pleasing the public and creates what is perhaps one of the most personal, intimate, subtle and telling works in the repertoire."
Continuing its passion for sharing music with communities beyond the Sydney Opera House Concert Hall, the performance at The Art House, Wyong, will mark the first of the Sydney Symphony Orchestra's regional New South Wales concerts in 2019. This year, the orchestra will perform a Mozart and Schubert inspired program at The Joan Sutherland Performing Arts Centre, Penrith (Friday, 31 May) and the Orange Civic Centre, Orange (Saturday, 1 June) with soprano Emma Matthews. On Saturday, 17 August, musicians of the Sydney Symphony Orchestra will feature at the Shoalhaven Entertainment Centre, Nowra. Concertmaster Andrew Haveron will perform Mozart's Violin Concerto No.5 in A, K219 (Turkish) at Wollongong's Town Hall on Saturday, 16 November.
The Sydney Symphony Orchestra will also embark on its annual regional tour, sharing musical experiences with regional communities in Port Macquarie (Tuesday, 21 May), Taree (Wednesday, 22 May) and Newcastle (Wednesday, 23 May)
Related Articles View More Classical Music

Stories
More Hot Stories For You