ACO Receives Rappaport Prize for Music Composition and $100,000 Grant to Secure New Works and Recording
Atlantic Classical Orchestra's (ACO's) Executive Director Anne Berquist today announced the largest grant received by the Orchestra to date for commissioning new works: The Rappaport Prize for Music Composition, a $100,000 grant from the Phyllis and Jerome Lyle Rappaport Foundation which secures the ACO's The Commission Project over the 2014 and 2015 seasons.
"Atlantic Classical Orchestra is deeply honored to receive The Rappaport Prize for Music Composition grant from The Phyllis and Jerome Lyle Rappaport Foundation," stated Ms. Berquist. "This important grant allows us to continue our mission; that of interpreting classics and introducing new quality works by American composers into the chamber orchestra/ orchestra cannon, thereby perpetuating not only the incredible works of the past, but the vibrant works of today and tomorrow. Maestro Stewart Robertson has been instrumental in raising the profile of the ACO, and his work has been paramount in enabling us to receive this award. We extend our warmest thanks to the Rappaport Foundation, and look forward to introducing the first two Rappaport Prize for Music Compositions this 2014 season."
Maestro Robertson added, "We are so excited with the possibilities that this grant allows! It is a very special honor, and will help ensure that our 24th and 25th seasons offer our audiences the memorable seasons they have come to expect from us."
ACO's latest music venture, The Commission Project, inaugurated in 2013 and championing contemporary American composers, will feature two new commissions, each known as The Rappaport Prize for Music Composition, by two of today's most promising young American composers each season, for a total of four works for classical orchestra over the 2014 and 2015 seasons. During The Commission Project's first season, Atlantic Classical Orchestra gave the world premiere of Sinfonietta by American composer and Fulbright scholar David Conte, whose work has been featured on PBS television and the Sundance and Toronto film festivals. In 2014, the Orchestra will give the world premiere of two new chamber works commissioned at $15,000 each: a new work for chamber orchestra by Emmy Award-winning composer Garth Neustadter (January 9, and 10, 2014) and the world premiere of a new work for solo clarinet and chamber orchestra byrising star Jeffrey Parola (March 6 and 8, 2014). Commissions for the 2015 season and 25th anniversary of ACO will include a $25,000 violin concerto and a $15,000 orchestral work, to be announced with the 2015 season release. The remainder of the grant will go to the making a professional recording of the commissioned Prize pieces, plus other works.
ABOUT THE PHYLLIS AND JEROME LYLE RAPPAPORT FOUNDATION
The mission of the Phyllis and Jerome Lyle Rappaport Foundation is to promote emerging and promising leaders in public policy, science and the arts. Consistent with that mission, the principal goal of The Rappaport Prize for Music Composition is to promote and recognize some of America's emerging and most promising composers.
ABOUT ATLANTIC CLASSICAL ORCHESTRA
Now entering its 24th season, the Atlantic Classical Orchestra (ACO) has developed a reputation as a world-class performing arts organization dedicated to presenting performances of both orchestral and chamber music in the rapidly growing urban communities on Florida's eastern seaboard north of Miami. While its core repertory is based in the late 18th and early 19th century, the orchestra has developed an active commitment to the rediscovery of much unjustly neglected music from the Romantic era, written for an orchestra of classical proportions alongside championing the best and most accessible of contemporary music with a special emphasis on the younger generation of American composers.
The ACO is composed of members drawn not only from Florida's principal musical organizations, but also major orchestras throughout the USA. The orchestra's artistic vision, high caliber of playing and variety of works performed have resulted in such acclaim by the press as, "What a remarkable group the Atlantic Classical Orchestra has become....under Grammy- nominated Music Director, Stewart Robertson, it has become an ambitious and poised group that could claim an honored place in even the most culturally rich communities".-Palm Beach Post.
First led by conductor Andrew McMullan, in 2004, the ACO baton was passed to Grammy-nominated Maestro Stewart Robertson, the second and current Music Director of the ACO. Bringing with him experience gained from his two decade tenure as Music Director of the internationally acclaimed Glimmerglass Opera and an equally successful stint as Music Director of the Florida Grand Opera, Maestro Robertson continued the phenomenal artistic growth begun by Maestro McMullan.
The only resident performing arts organization of Florida's Treasure Coast, the Atlantic Classical Orchestra's educational and outreach efforts include am ongoing relationship with the Treasure Coast Youth Symphony. In 2009, a new partnership garnered spectacular results - teaming with Miami's Dranoff International Two Piano Competition, members of the ACO and prizewinning piano duos from the Dranoff performed special education programs in schools throughout South Florida, culminating in two free Family Concerts featuring the full ACO in performances of Saint-Saens' The Carnival of the Animals.
The ACO released its first recording, an all-Schumann CD, with guest artist renowned violinist Elmar Oliveira in February 2013.
Highlights of the upcoming 24th season (January 8 - April 4, 2014), in addition to the two exciting new The Rappaport Prize for Music Compositions from the Atlantic Classical Orchestra's The Commission Project (begun in the 2013 season) by Emmy Award-winning composer Garth Neustadter and rising star Jeffrey Parola, include an All-American program connecting to an exhibition at the Vero Beach Museum of Art for the Chamber Music Series. Of special note, and new this season, the orchestra introduces a set of open dress rehearsals at the Eissey Theatre in Palm Beach connected to the ACO Concert Series. 2014 Season guest artists include the internationally celebrated Kalichstein, Laredo, Robinson Trio, former ACO orchestra member Russian cellist Ian Maskin, who returns to ACO to perform as half of the compelling duo iAN & ANi, and a return engagement by popular local pianist Lindsay Garritson. ACO's own principal clarinetist Paul Green also appears as soloist. In addition to the ACO's well-loved pre-concert lectures (held fifty minutes before each Concert Series performance), in which Maestro Robertson offers insights and introduces key themes of the evening's repertoire, the 2014 season introduces a set of four free (no tickets), open-to-the-public orchestra dress rehearsals to be held at the Orchestra's newest venue, the Eissey Theatre in Palm Beach Gardens. The rehearsals take place at 2:00 PM in the afternoon once a month from January through April 2014 and are followed by a wine reception for the audience and the musicians. The Atlantic Classical Orchestra's popular education series, "Behind the Baton" with Maestro Stewart Robertson, a partnership with Lifelong Learning at Indian River State College (IRSC), continues to expand, and will run four Mondays in Stuart and four Wednesdays in Vero Beach, January - March, 2014.
More Hot Stories For You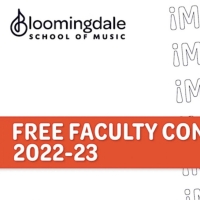 Bloomingdale School Of Music To Present Free Faculty Concert VIRTUOSIC VIOLIN-PIANO COLLABORATION: TWO SONATAS AND A BALLET

November 23, 2022

Bloomingdale School of Music announces December programming for its 2022/23 Free Faculty Concert Series at the David Greer Concert Hall, 323 W. 108th Street, NYC.
---
Bloomingdale School Of Music To Present 2022 Free Holiday Concert, December 9

November 23, 2022

Bloomingdale School of Music announces December programming for its 2022/23 Free Faculty Concert Series at the David Greer Concert Hall, 323 W. 108th Street, NYC.
---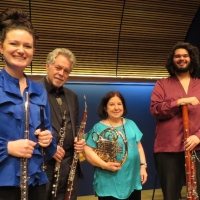 Quintet Of The Americas to Present FESTIVE SOUNDS Concerts In Queens This December

November 23, 2022

Quintet of the Americas will present three Festive Sounds programs of commissions on December 14 at Church-in-the-Gardens, 50 Ascan Ave., Forest Hills, December 17 at Queens Public Library in Jackson Heights, and December 18 at The Center At Maple Grove Cemetery.
---
Colburn School Adds Adrian Dunn And Evan Kuhlmann to Faculty

November 22, 2022

After a two-year hiatus due to COVID-19, choral music returns to the Colburn School under the leadership of singer, composer, and conductor Adrian Dunn, who has been appointed Director of Choral Programs, Community School of Performing Arts. Dunn will direct the Community School's junior and youth choral ensembles, and the Colburn Concert Choir, and work with students ages 5 - 18 in musicianship, vocal technique and ensemble skills.
---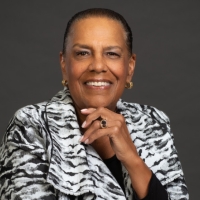 Suncoast Black Arts Collaborative Receives Grant From The Cordelia Lee Beattie Foundation For 2023 'Visions In Black' Initiative

November 22, 2022

Michéle Des Verney Redwine, the founder of the Suncoast Black Arts Collaborative (SBAC), announced that the nonprofit was recently awarded a $10,000 grant from the Cordelia Lee Beattie Foundation.
---