2022 Coriole Music Festival Program Announced
The 2022 Coriole Music Festival, themed on The Sense of an Ending, will take place on Saturday and Sunday, 21 and, 22 May 2022, at Coriole Vineyards.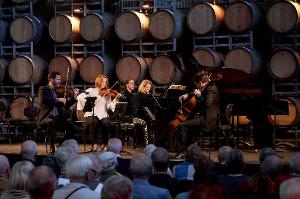 Coriole Music Festival Artistic Director, Anna Goldsworthy, has announced the program for her final Coriole Music Festival. The festival, which is among the top three chamber music festivals in Australia and now in its twenty-second year, encompasses two days of chamber music, fine food, wine and conviviality amid the autumn tones of McLaren Vale.
The 2022 Coriole Music Festival, themed on The Sense of an Ending, will take place on Saturday and Sunday, 21 and, 22 May 2022, at Coriole Vineyards, Chaffeys Road, McLaren Vale, South Australia.
Anna Goldsworthy said, 'After surveying beginnings and middles in our previous Coriole Music Festivals, we now arrive at endings, with a program based upon late style: transcendent, elegiac, concise, expansive, defiant, reconciled, but above all inventive'.
The artists performing for 2022 are soprano Lorina Gore joined by Paavali Jumppanen (piano), Andrew Haveron (violin), Christopher Moore (viola), and Seraphim Trio. Anna's treasured colleagues from the Elder Piano School, Konstantin Shamray and Lucinda Collins will be joined by SA favourites, Elizabeth Campbell, Kim Worley, Celia Craig, Emma Gregan, Simon Cobcroft, Martin Alexander, Dean Newcomb, Mark Gaydon, Belinda Kendall-Smith, Julia Grenfell, Julian Murphet, and Philippa McAuliffe, for a memorable exploration of 'ripeness'.
The Coriole Music Festival comprises two concerts on Saturday and one on Sunday. Each of the weekend's three concerts will be followed by a meal in the Coriole courtyard, where performers and audience can mix while enjoying fine food by chef Tom Tilbury and superb Coriole wines. On each morning, before the first concert, Anna Goldsworthy will give a talk to introduce the program of music.
Tickets may be purchased online at https://coriolemusicfestival.com/ or email book@coriolemusicfestival.com or by telephoning Coriole Music Festival ticketing on (08) 8236 7499.
The Coriole Music Festival was conceived by the Lloyd and Burrell families as a celebration of fine music in the McLaren Vale wine region. First held in 1999, the Coriole Music Festival is now an annual event on the first weekend of May. The festival is administrated and produced by the McLaren Vale Music Festival Association, a not-for-profit organisation chaired by Mark de Raad with Mark Lloyd, Libby Raupach, Veronica Aldridge, Don Aldridge, Kimberly Philp and Margot Lloyd as board members.
In 2018 the McLaren Vale Music Festival Association commenced the Coriole Music Festival Commissioning Fund, which seeks donations to support at least one new composition in every future Festival. Details maybe found at www.coriolemusicfestival.com/donate
Coriole was established by the Lloyd Family in 1967. The Coriole vineyards date from 1919, late 1960s, and early 1990s, and the main variety produced is shiraz. Wines are estate-produced and sold in many countries around the world.
For more information visit www.coriolemusicfestival.com.