Work of Fiction Speculates on ISIS Activity in New York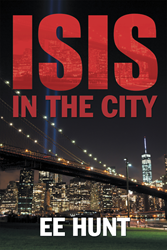 As four ISIS members infiltrate Manhattan and Brooklyn, they plan to leave a path of destruction that includes the new 9/11 memorial in EE Hunt's novel "ISIS in the City."
The people who are tasked with stopping the terrorists include a female Muslim who despises radicals, a female NYPD detective, a FBI agent, and a CIA member. Together, the four characters use their knowledge and expertise to fight against terror.
"As an Episcopal priest, I believe that there must be tolerance of all faiths and religions, since arrogance promotes evil," said Hunt. "At the same time, we must protect ourselves from radicals who want to dismantle such harmony."
The book depicts counter-terrorism measures by local law enforcement and federal agencies, working together for the common cause of defending America and innocent civilians.
As a work of fiction, "ISIS in the City" speculates on the possibility of another major terrorist attack in post-9/11 New York.
"ISIS in the City"
By EE Hunt
ISBN: 978-1-52457-318-8 (hardcover); 978-1-52457-317-1 (softcover);
978-1-52457-316-4 (eBook)
Available on Amazon, Barnes & Noble, and Xlibris
About the author
EE Hunt is an Episcopal priest. He was Rector of the Church of Epiphany in Manhattan, Dean of the St Mathew's Cathedral in Dallas, and Dean of the American Cathedral of the Holy Trinity in Paris, France for more than ten years. Hunt has published seven previous books, one academic and six novels on turbulent times regarding terrorism and human trafficking. He graduated from Stanford University with two degrees, the Episcopal seminary of the Southwest with two degrees, and Princeton Theological Seminary, where he earned a doctorate. In a time of religious division and political mistrust, Hunt's interest is in promoting a common sense of human decency and reconciliation amongst the practitioners of all faiths. To learn more, please visit http://www.EEdHunt.com.
Review Copies & Interview Requests:
LAVIDGE - Phoenix
Bryan Beach
480-998-2600 x 510
bbeach(at)lavidge.com
General Inquiries:
LAVIDGE - Phoenix
Chris Pena
480-998-2600 x 519
cpena(at)lavidge.com
Related Articles View More Books

Stories
More Hot Stories For You