Vietnam Helicopter Pilot Continues to Tell His Story Through Audiobook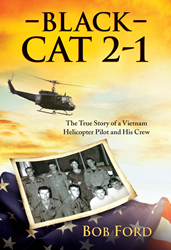 Brown Books Publishing Group author and Vietnam War helicopter pilot, Bob Ford, recently released the audiobook of his award-winning memoir Black Cat 2-1: The True Story of a Vietnam Helicopter Pilot and His Crew. Narrated by Ford, this version of his incredible story is available now on Audible/Amazon and iTunes.
In addition to the launch of his audiobook, Ford is the focus of the latest episode of Page Turners, the author spotlight show created by The Agency at Brown Books. Recently a featured speaker at the Honoring Our Nation's Heroes event at the Frontiers of Flight museum in Dallas, Texas, Ford will be inducted into the Oklahoma Military Hall of Fame on November 3, 2018.
In the Vietnam War, 2,197 helicopter pilots and 2,717 crew members were killed. Black Cat 2-1 is the story of one pilot who made it home and the valiant men he served with who risked their lives for the troops on the ground. Bob Ford invites readers into the Huey helicopters he flew on more than 1,000 missions when he and his men dared to protect and rescue. For those whose voices were silenced in that faraway place or who have never told their stories, he creates a tribute that reads like a thriller, captures the humor of men at war, and resounds with respect for those who served with honor. Black Cat 2-1 is a #1 non-fiction bestseller and Oklahoma Book Award finalist.
With Veteran's day approaching, this new audio version of Black Cat 2-1 will be of interest to history- loving listeners and readers everywhere. For more information, visit http://www.blackcat2-1.com.
About The Agency at Brown Books (ABB)
As a sister company of Brown Books Publishing Group, The Agency at Brown Books is backed by more than 20 years of publishing excellence, leveraged in the first full-service public relations, marketing, branding and distribution provider within a publishing house. The Agency provides high-level public relations, marketing and distribution services for not only Brown Books authors, but also non-affiliated authors, all within the same house. For more information, please visit http://www.TheAgencyatBB.com.
About Brown Books Publishing Group (BBPG)
Founded in 1994 as an Entrepreneurial Publisher for Entrepreneurial Authors®, Brown Books Publishing Group was established to fill a need in the publishing world by allowing authors to have a voice in the publishing process while retaining the rights to their intellectual property. Applying this innovative Relationship Publishing™ model, Brown Books has cultivated a prestigious stable of authors, from New York Times bestsellers to Pulitzer Prize winners and more. Boasting hundreds of high-quality books across genres, Brown Books is a fiercely independent publisher that encourages author empowerment. In 1994, Brown Books ushered in A New Era in Publishing™, and more than two decades later, continues to be a successful innovative leader in the publishing industry. For more information, please visit http://www.BrownBooks.com.
Related Articles View More Books

Stories
More Hot Stories For You