Understanding the Meaning and Purpose of the Revelation 12 Sign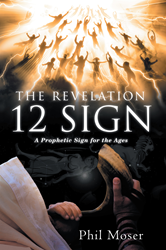 The book of Revelation contains great and important prophecies about the end of times. However, what are the signs of the fulfillment of these end-time prophecies, and what scriptural evidence is there to support what might be seen? These questions are explored in Phil Moser's book "The Revelation 12 Sign."
The book explains how a major sign in the heavens will occur in September 2017 during the two-day feast of trumpets called Yom Teruah, which is also known as the hidden day. God will reveal this sign in the heavens for all to see, and it is foretold in Revelation 12:1- "And there appeared a great wonder in heaven; a woman clothed with the sun, and the moon under her feet, and upon her head a crown of twelve stars."
"I know now there has been no greater enjoyment for me than to search out and find the hidden meaning contained within God's Holy Word, the Bible," said Moser. "God has been preparing me to receive the message within the book to bring glory to His name."
As the days of Revelation draw closer and prophecy is both revealed and fulfilled, it is more important than ever for believers to understand the meaning of the characters, events, and symbols in Revelation as well as the appointed time known as Yom Teruah. "The Revelation 12 Sign" will elucidate powerful evidence supporting both the interpretation of this sign as well as how God desires his saints to be aware of what is to come.
"The Revelation 12 Sign"
By Phil Moser
ISBN: 9781480847200 (softcover); 9781480847217 (hardcover); 9781480847224 (electronic)
Available at Archway Publishing, Amazon, and Barnes & Noble
About the author
Phil Moser is a retired petroleum geologist currently involved in the prison ministry in Edmond, Oklahoma. As a longtime student of Bible prophecy for over 20 years, he has been most influenced by prophecy teachers such as Perry Stone, Chuck Missler, David Reagan, Grant Jeffrey, Adrian Rogers, Hal Lindsey, Jack Van Impe, and Mark Hitchcock. Moser and his supportive wife, Roxie, were high school sweethearts, and today they have three grown children, three beautiful grandchildren, and three golden retrievers.
General Inquiries:
LAVIDGE - Phoenix
Bryan Beach
480-306-6554
bbeach(at)lavidge(dot)com
Related Articles View More Books

Stories
More Hot Stories For You