The Coffeehouse Resistance Slated to Hit Shelves April 9, 2019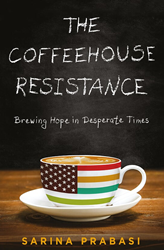 Greenwriter's Press announced today that it will be releasing a powerful new memoir this Spring. Written by immigrant, coffeehouse owner and nonprofit leader Sarina Prabasi, The Coffeehouse Resistance: Brewing Hope in Desperate Times chronicles her family's journey from Addis Ababa to New York City, where they start and grow a thriving coffee business. After the 2016 election, they are suddenly unsure about their new home. Part coming-to-America story, part lyrical memoir, and another part activist's call to action, Greenwriter's Press describes The Coffeehouse Resistance as 'timely, funny and poignant."
Written in short, extremely readable vignettes, the book starts with Prabasi's globe-trotting childhood, and weaves between Addis Ababa and New York. As their business finds roots in their local community in Upper Manhattan, Prabasi tries to reclaim the history of coffeehouses as places where people come together, where ideas are debated and where neighbors organize their communities. Ultimately this is a hopeful book and powerful call to action to reclaim the America Dream. The book will be out on April 9, 2019.
"Prabasi draws on the hard-won wisdom of a mother, entrepreneur, and global executive to deliver a compelling account of the deep and nuanced experiences that make up the American Dream," said Greenwriter's Press.
Pulitzer Prize-winning playwright and composer, Quiara Alegria Hudes has described the book as "... soaring with political and personal ferocity…"
Prabasi will kick off a national book tour starting April 11 in Boston at Specialty Coffee Association Expo, with speaking engagement scheduled in Denver, Portland, Seattle and New York City.
The Coffeehouse Resistance retails for $19.95 and is currently available for pre-order at local bookstores or on Amazon, Indie Bound, Books-A-Million or Barnes & Noble.
ADVANCE PRAISE
"This transporting, globe-trotting tale filled me with wanderlust. Prabasi describes beautiful, surprising firsts as she travels the planetfrom earliest toddler memories, through to adulthood. When she settles in uptown Manhattan and brings an international lens to her local business, the book soars with political and personal ferocity, never losing the warmth of neighbors connecting over coffee."
—Quiara Alegría Hudes, Pulitzer prize and Tony award winning playwright and composer (In the Heights, Water by the Spoonful, Miss You Like Hell).
"Sarina Prabasi has found a way to help us navigate today's questions by looking at her own past experiences. Full of warmth and bristling with urgency, The Coffeehouse Resistance is compulsively readable and absolutely necessary. Get it now."
—Maaza Mengiste, author of the widely acclaimed and award-winning novel, Beneath the Lion's Gaze
"Prabasi's story of life as an activist, immigrant, and coffeehouse founder, so intimately related on these pages, offers a model of what 21st century resistance looks like—and in the process helps us reclaim the revolutionary roots of coffeehouse culture."
—David L. Parsons, author of Dangerous Grounds: Antiwar Coffeehouses and Military Dissent in the Vietnam Era
"Sarina Prabasi's memoir The Coffeehouse Resistance is a powerful account of aspirations, hope, and citizenship that shows that every big change happens a little bit at a time, one conversation at a time, one cup of coffee at a time. At Buunni Coffee she and her husband opened their hearts to the local community and created a hub where people gather to write letters to politicians, sign petitions, and escape the sense of isolation at a time when the whole country seems to struggle. Written as an effort to preserve her experiences of the cultures that have nourished her belief in the life of the neighborhood, and a need to stand up for oneself, Prabasi's book is a heart-felt account of hope that will bring hope to the rest of us."
—Dr. Carmen Bugan, George Orwell Prize Fellow, author of the critically acclaimed memoir Burying the Typewriter and poet
ABOUT THE AUTHOR
Sarina Prabasi is the cofounder of Buunni Coffee in New York City, author of The Coffeehouse Resistance: Brewing Hope in Desperate Times (Green Writers Press, April 2019) and CEO of WaterAid America. She was born in the Netherlands, raised in India, China and Nepal, and spent formative years in the United States and Ethiopia. Following a career leading initiatives in global health, education, water and sanitation, Sarina moved with her husband, Elias, from Addis Ababa to New York City, where they started Buunni Coffee together. Today, Buunni is a thriving business and a hub for community conversation and action. Find her on Facebook @SarinaPrabasiAuthor and on Twitter @SPrabasi. Sarina has appeared on MSNBC, Al Jazeera, CBS News and Cheddar TV and more. Buunni Coffee has been featured in the Guardian, Wall Street Journal and New York Magazine among others.
For more information about The Coffeehouse Resistance, please visit sarinaprabasi.net or contact Danielle Kent at danielle@marketingmaven.com
For more information, and for interviews:
Dede Cummings: (802) 380-1121
Media (at) greenwriterspress (dot) com
Sarina Prabasi: (347) 819-0705
sarina (at) sarinaprabasi (dot) net
Notes to editors:

National and regional media attention including progressive politics, women-focused, food, travel and entrepreneur/business focused media. TV, radio, online, and podcasts.
Author Tour: Boston, New York, Washington, D.C., Philadelphia, Denver, Portland and Seattle
Advance Readers Edition available in print and digital
A portion of the proceeds from all book sales will go to the Northern Manhattan Coalition for Immigrant Rights (NMCIR).
Related Articles View More Books

Stories
More Hot Stories For You