Randy Hix Heals Wounds for a Fatherless Generation in The Affirmation...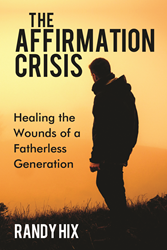 "There is an Affirmation Crisis. It is the result of fatherlessness," Randy Hix concludes in his book The Affirmation Crisis: Healing of the Wounds of Fatherless Generation. He shares his own experience and offers real solutions as guided by God for the feeling of being lost, broken relationships, identity confusion, and emotional dysfunction caused by the absence of a father in the family unit.
In The Affirmation Crisis, Randy addresses the problems occurring in generations growing up without a father both physically and emotionally. It tackles how fatherless children grow up and live their lives with the absence of emotional blessings that only a father can provide to a child. By tackling the serious impact of this epidemic, the book can help parents, teachers, and leaders build stronger families, more effective churches, and cultural transformation.
"The "father wound" is a wound of absence," Randy explains. He continues, "This wound of absence has caused a lack of honor, acceptance, and acknowledgment of fathers. This fatherless generation lacks the affirmation and vital paternal impartation that only comes from the father. The epidemic of fatherlessness has scarred too many men and women due to the lack of the patriarchal blessing."
As a father himself, Randy touches a topic that is close to his heart in The Affirmation Crisis. He became a father at the young age of 18 and juggled various jobs to make ends meet. During this time, he felt it was natural to leave the raising of their children to his wife, as this was also what he learned from his own father. This cycle is reflected in the references and statistics mentioned throughout this book of the domino effect happening in generations because of this scenario.
A few years into the realization that he had been absent in the process of raising their boys, Randy looked into biblical and secular studies on the subject. There he found the missing element of affirmation of his children, which also refers to the emotional detachment or the "father's wound" he experienced from his own father. After ministering this concept to the men at their church, he witnessed men weeping at the realization and recognition of the hurt they had carried on that eventually led to this book.
The author speaks from experience in this book. Throughout his life, he devoted his time to being an apostolic leader, a Bible school teacher, and a missionary. Aside from The Affirmation Crisis, he also authored Blood War. Together with his wife Renee, they founded Legacy Ministries International in 1995. They now live in Reno as teachers and itinerant ministers to serve the body of Christ. Most importantly, Randy is a father to two sons—Scott and Brian.
The Affirmation Crisis by Randy Hix is published by Elm Hill, a division of HarperCollins Christian Publishing. The book is available in ebook, hardcover and paperback formats. For more information about the author and his missionary outreach ministry, visit randyhixministries.org.
Title: The Affirmation Crisis
Author: Randy Hix
Genre: Family / Relationships
ISBN: PB - 9781595558251
Pages: 160
Publisher: Elm Hill, a division of HarperCollins Christian Publishing, Inc.
Related Articles View More Books

Stories
More Hot Stories For You