New Book by Dale Brown Offers Hope and Practical Advice to Divorced...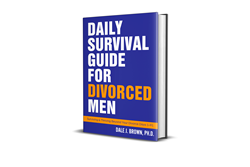 In "Daily Survival Guide for Divorced Men: Surviving & Thriving Beyond Your Divorce Days 1-91" seasoned Pastor Dale Brown takes a newly divorced man from despair to a place of hope and healing. In 91 brief daily readings, men are directed step-by-step through healthy expressions of painful emotions to discovering a new positive identity.
In "Daily Survival Guide for Divorced Men," Brown
1. Helps men understand and normalize their emotions, giving effective coping strategies to survive through the crisis and then thrive beyond it.
2. Supports healthcare professionals in their understanding of men suffering through the challenges unique to divorce.
3. Challenges men to choose to be better rather than bitter over their divorce.
4. Increases a divorcing man's understanding of what his children are going through and challenges him to be present in their lives through the divorce.
5. Helps a man push against self-destructive habits such as alcohol/drug consumption, pornography and/or risky behaviors.
"Daily Survival Guide for Divorced Men" helps men navigate the painful journey of divorce, challenging men to survive intact and then thrive beyond their divorce. If a man receives this wisdom he comes through divorce a better man. A better man is a win-win for everyone. The stakes are high. Men are worth saving.
From "Daily Survival Guide for Divorced Men"
"By his power and through his grace, God can repair the damage done to you. By his power and through his grace, God can forgive the damage you have done to others, including your ex-wife and your family. We are damaged and we cause damage. We are messed up and we mess up others.
A significant piece of the healing journey is to understand this simple concept-we all need to be repaired and we all need to be forgiven. When we enter this process something amazing happens: As we experience God's gracious healing and gentle conviction he begins to use us to clean up our messes and help repair others. I know this sounds daunting right now but it is doable by (1) taking one day at a time, (2) seeking God's grace and strength, and (3) holding on to hope in this moment and for the future."
A longtime pastor, speaker and teacher, mentor and coach, Brown has been a community leader for over 30 years. After officiating at hundreds of weddings and counseling countless couples through marriage difficulties, Brown found himself divorced.
Determined to continue to serve hurting and wounded people, he started Men's Divorce Recovery, an organization dedicated to helping men survive and thrive beyond their divorce. Knowing the stakes are high, Brown is determined to make a difference in men's lives as they face recovery and rebuilding from the trauma and losses of divorce.
Brown has pastored six churches in Texas and New England, traveled and taught overseas and led Men's Retreats and Conferences. He has taught in numerous prisons and been a chaplain in the hospice, hospital and first responder settings.
He holds a B.S. from the University of Texas and the M.Div. and Ph.D. degrees from Southwestern Baptist Theological Seminary.
For more information about Dale Brown, Author, Daily Survival Guide for Divorced Men: Surviving & Thriving Beyond Your Divorce Days 1-91, visit http://www.mensdivorcerecovery.org.
Photo of Dale Brown, Author, Daily Survival Guide for Divorced Men: Surviving & Thriving Beyond Your Divorce Days 1-91: https://mensdivorcerecovery.org/media-sources
Related Articles View More Books

Stories
More Hot Stories For You