Murder Mystery Novel on Assassination of American President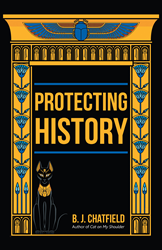 A security guard at the British Museum witnesses the mysterious assassination of the President of the United States in B. J. Chatfield's novel "Protecting History."
Pairing with a reporter, the two characters attempt to discover the truth behind the assassination. Their search leads them to an ancient Egyptian amulet with mystical powers that allows them to journey into the future.
"I am well, travelled, which is what prompted the writing of a book with the British Museum as the main setting," said Chatfield. "I love travel and science fiction, so I was compelled to blend the two subjects into the novel."
In this gripping tale, a museum security guard and a zealous newspaper reporter attempt to solve the mystery behind the murder of the President of the United States.
"Protecting History"
By B. J. Chatfield
ISBN: 978-1-53201-259-4 (hardcover); 978-1-53201-257-0 (softcover);
978-1-53201-258-7 (eBook)
Available on Amazon, Barnes & Noble, and iUniverse
About the author
B. J. Chatfield earned a bachelor's degree in English and history from the University of Saskatchewan. She is currently a teacher in the northern regions of Saskatchewan and author of the novel "Cat on My Shoulder." Chatfield divides her time between the far north and Saskatoon, Saskatchewan, where she lives with Selket, a wonder cat and inspiration for her first novel.
Review Copies & Interview Requests:
LAVIDGE - Phoenix
Bryan Beach
480-998-2600 x 510
bbeach(at)lavidge(dot)com
General Inquiries:
LAVIDGE - Phoenix
Kalin Batts
480-998-2600 x 524
kbatts(at)lavidge(dot)com
Related Articles View More Books

Stories
More Hot Stories For You