More Merry Reads from Brown Books Publishing Group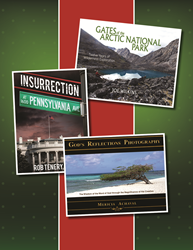 As holiday shopping kicks into high gear, let Brown Books make your gift giving easier with our list of fabulous reads!
Fiction
Anne Bonny's Wake by Dick Elam (Thriller/Crime/Romance)
It's been four years since the Anne Bonny's namesake passed, and Hersh Barstow is taking out the sailboat one last time as a final good-bye to his departed wife. He expects the trip to be a quiet one, but then the mysterious and seductive Maggie Adelaide Moore comes aboard. Trouble quickly follows, and soon the two are entangled with a dangerous drug cartel. Now the criminal justice professor needs to call on old friends from his CIA days to escape their pursuers and riddle out Maggie's mysterious past.
http://www.dickelambooks.com/
Alligator Creek by Lottie Guttry (Fiction/Historical)
This captivating historical novel is based on a family story about the author's ancestors, Sarah and Alexander Browning, who lived in Florida during the Civil War. From a family legend and a bundle of letters comes the unashamed and courageous truth of the struggles endured by Confederate soldiers and the women they left behind.
http://alligatorcreekbook.com
Insurrection at 1600 Pennsylvania Avenue by Rob Tenery, M.D. (Thriller/Political)
This taut and timely political novel is built around the suspected murder of the Vice President of the United States and attempts by foreign powers to destabilize American democracy. It is something that will make you think, "This could really happen today."
http://www.robtenerymd.com/
Wounded Tiger: A True Story by T. Martin Bennett (Historical)
Three seemingly unrelated wartime narratives come together in this well-researched, incredibly thorough fictional historical account of the attack on Pearl Harbor in 1941. Witness the story unfold before, during, and after the attack, and see the true impact of this infamous event in world history. This expanded second edition includes over 250 rare historical photographs, maps and images.
https://www.woundedtiger.com/
Photography
God's Reflections Photography: The Wisdom of the Word of God Through the Magnificence of His Creation by Mericia Achaval (Christian Life/Religion/Inspirational)
This inspirational gift book is a journey of stunning photography that captures the aesthetic and spiritual essence of nature, from the majestic sunshine of the desert to the mysterious breezes of the sea. Combined with her favorite Bible passages, this book is full of little reminders to stay spiritually grounded, to love God, and to serve others.
http://www.godreflections.com/
Gates of the Arctic National Park: Twelve Years of Wilderness Exploration by Joe Wilkins
Explore the natural wonders of life in the Arctic Circle with former Air Force officer, Vietnam veteran, and professor emeritus Joe Wilkins who has spent decades honing his wilderness skills throughout North America, Europe, and Asia and years patrolling Gates of the Arctic as a National Park Service volunteer. Now, he is sharing this incredible region with the world. With stunning photography, expert knowledge, and detailed personal accounts, this unique coffee table book brings the secrets and splendors of Alaska to life.
Release date: January 23, 2018: Pre-orders available at:
https://www.amazon.com/Gates-Arctic-National-Park-Exploration/dp/161254973X
Young Adult
Sage Alexander and the Hall of Nightmares by Steve Copling (YA Fiction/Fantasy)
Copling transports readers to a world that is darker than it seems. The human race is in danger, controlled unknowingly by the Seven Princes of Hell, angelic embodiments of the seven deadly sins. The Angelic Response Council has fought these forces of evil for centuries, but their numbers are dwindling. Humanity's fate lies in the prophecy of a gifted warrior who will rise to bring about the demise of the fallen angels cast out of heaven and all of their nefarious descendants. His name is Sage Alexander.
https://sagealexander.net/
Blatantly Honest: Normal Teen, Abnormal Life by Makaila Nichols (YA Nonfiction/Social Topics)
http://www.makailanichols.com/
Other
Building Your Home: A Simple Guide to Making Good Decisions by Kristina Leigh Wiggins (House and Home/Design and Construction)
From planning to move in, this guide keeps you comfortably afloat the moving, building, or remodeling process that we all experience at some point in our lives.
https://simplykristinaleigh.com/
The Empowered Teacher: Proven Tips for Classroom Success by Susie Wolbe, Ed.D. (Education/Teaching Methods and Materials)
http://drsusiewolbe.com/books/
Vagabonding with Kids Series by AK Turner (Humor/Travel):
The Uncensored, Awkward, and Raucous Pursuit of Family World Travel
Australia-You Can't Ride a Dingo-True Tales from the Land Down Under
Brazil-Piranha Fishing, Thong Bikinis, and Other Parenting Adventures (and failures) Abroad
Alaska-Sea Lions Aren't Cuddly and Other Truths of the Last Frontier
http://vagabondingwithkids.com/
"Happy reading (and shopping)!"
About Brown Books Publishing Group (BBPG)
Founded by Milli Brown in 1994, Brown Books Publishing Group is a full-service, independent publisher of high-quality books across all genres, from nonfiction to fiction. Committed to producing award-winning books for authors who choose to retain the rights to their intellectual property, Brown Books publishes more than one hundred titles a year and has won numerous prestigious awards, including the Writer's Digest Grand Prize, Mom's Choice Award, Foreword Book of the Year, Gold Ink Award, Axiom Business Book Award and many more. Brown Books authors have appeared on programs and channels such as the "Today" show, Fox News, "Face the Nation," CNN and BBC News. They have been featured in publications such as USA Today, Publishers Weekly, and The New York Times. In addition, BBPG authors have been guests on NPR programming, including "The Diane Rehm Show," "Morning Edition," "The Takeaway" and "Tell Me More." To learn more, visit http://www.BrownBooks.com.
About The Agency A. Brown Books (ABB)
The Agency A. Brown Books is a full-service public relations, marketing and branding firm within a publishing house. As a subsidiary of Brown Books Publishing Group, The Agency is backed by 20 years of excellence and experience, and the one-of-a-kind, integrated platform is available to Brown Books' authors as well as to non-affiliated authors, established writers, entrepreneurs, CEOs and anyone seeking smarter strategies for building their business. For more information, visit http://www.TheAgencyAtBB.com.
Related Articles
View More Books

Stories
More Hot Stories For You