Highlights of Aviation History and Development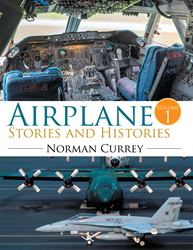 Covering key individuals and milestones, Norman Currey outlines the most significant aspects on the development and advancement of aviation in his book "Airplane Stories and Histories."
The book covers a span of 200 years of aviation highlights from the authors perspective, including the exploits of pioneers such as Sir George Cayley, the Wright Brothers, Charles Lindbergh, Wiley Post, Amelia Earhart, R.J. Mitchell, Sir Geoffrey de Havilland, Allan Loughead, Frank Whittle, and Kelly Johnson.
Notable events that are discussed include the first flight, the first crossing of the Atlantic and Pacific, the development of the jet engine, and various aircraft that have surpassed the capabilities of previous designs.
"Other books usually deal with just one aspect such as the history of a certain company, an airplane, a person, or an event," said Currey. "This book attempts to give a summary of many of these aspects, providing significant details that make aviation fascinating to study."
"Airplane Stories and Histories" is a book accessible to those with an interest in aviation, from amateurs to professionals.
"Airplane Stories and Histories"
By Norman Currey
ISBN: 9781524588281 (softcover); 9781524588298 (hardcover); 9781524588274 (eBook)
Available on Amazon, Barnes & Noble, and Xlibris
About the author
Norman Currey was born on the North Sea Coast of Scarborough, Yorkshire, in 1926. His first experience with aircraft was in the Air Training Corps from 1941 to 1943, and after high school he attended the de Havilland Aeronautical Technical School for four years at Hatfield, a few miles north of London. After graduating, Currey worked as a stress engineer at de Havilland on the Comet, and then sailed to Canada where he was a design engineer at Avro Aircraft for 10 years, working mostly in its Initial Projects Office. He then worked Lockheed for 30 years on the C-130, C-5, JetStar and conducting research and development in their Preliminary Design department. Since retirement, Currey has done some consulting and presented lectures to the South Korean Agency Defense Development. He is a Chartered Engineer (UK) and a Fellow of the Royal Aeronautical Society, and has published many articles, presented papers at two SAE Systems Conferences, and has published a book on landing gear design (AIAA).
General Inquiries:
LAVIDGE - Phoenix
Bryan Beach
480-998-2600 x 510
bbeach(at)lavidge.com
Related Articles View More Books

Stories
More Hot Stories For You