Become a Happy Activist and Make the World a Happier Place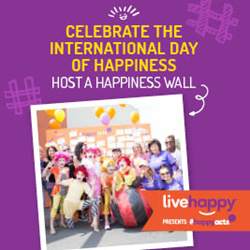 What does it mean to live happy? It's being a Happy Activist—a thoughtful, active participant in your own life and community who makes the world better through kind words and intentional positive actions. During March, Live Happy is kicking off a month-long
#HappyActs
celebration by providing an easy way for participants to spread happiness and make a positive difference in their lives and the lives of those around them.
On March 20, 2019, the world will celebrate the International Day of Happiness. This holiday was created by the United Nations in 2013 to recognize the need and awareness for worldwide happiness. Year in and year out, Live Happy has been championing this cause by encouraging people to practice #HappyActs on this day as well as to help create Happiness Walls across the globe.
This year, Live Happy plans to have more than 1,000 walls across the globe for people to visit and share how they like to spread happiness. Happiness walls can be located at local schools, churches, shopping malls, public parks, businesses and more. The infectious feeling of happiness and joy shared at these walls will create a ripple effect.
"It's easy to participate." says Deborah K. Heisz, Live Happy CEO, co-founder and editorial director. "You can start simply, by making someone's day a little brighter, and you can go bigger by spreading happiness on one of the Happiness Walls going up across the country."
The wall is one of a range of activities and fun ideas, including:

Perform and share as many Happy Acts as possible during the month of March—take a picture or video and use #HappyActs in your posts and tweets.
Create a Happiness Wall! It's easy to do and a fun and engaging way to bring more happiness to your community, workplace and children's school.
Visit a Happiness Wall! View a complete list of registered wall locations.
Sign-up for our e-newsletter and get happiness delivered straight to your inbox.
Research shows that happiness is an incredibly important part of life and should never be dismissed. Happy people tend to be more successful, live longer, have better connections with family and friends, miss less work and donate more. The science behind happiness, positive psychology, provides real applications we can apply to lead more fulfilling lives and help others do the same.
For more information please visit: happyacts.org
About Live Happy
Live Happy is leading the global movement to make the world a happier place and is dedicated to promoting and sharing authentic happiness, inspiring people to live purpose-filled, healthy, meaningful lives. Founded by entrepreneur Jeff Olson, Live Happy LLC is a magazine, website, resource and movement about a timeless quest: Living a happy life. Live Happy celebrates and shares the innovative research of positive psychologists and their colleagues to address meaningful correlations between positive emotions, health and fulfillment. Happiness empowers us to make a positive difference in our lives and in the lives of others. Happier people are healthier, more satisfied with life and their relationships, and they live longer. Join the journey to live happy and spread that joy. Happiness is a journey anyone can take and it starts with just one step. Discover more at livehappy.com.
Related Articles View More Books

Stories
More Hot Stories For You